Google offers many workspace tools to help its users connect and work globally, maximizing productivity and profit for the business. The main Workspace includes docs, sheets, gmail, meet and chat.
Google's new AI features for Workspace are not yet available for global users, but the company has given us a sneak peek of what's to come. Trusted testers are currently examining the features in the US, and the release for other countries will follow later.
Table of Content
What is Generative AI?
What is Duet AI and How to Use it?
Reason for Google to Implement AI in its Workspace Products
Benefits of Google AI in Docs, Sheets and Gmail
AI Features in Google Docs
AI Features in Google Sheets
AI Features in Gmail
Conclusion
FAQs
What is Generative AI?
Generative artificial intelligence (Gen AI) is an AI model that uses machine learning to imitate humans. It learns from existing data and creates new responses based on human queries, which are technically known as prompts.
ChatGPT, Bard, DALL-E, and Midjourney are a few well-known Generative AI applications.
What is Duet AI and How to Use it?
Duet AI is a generative AI feature that is available in Google Workspace products. Currently, Duet AI is in the preview stage, and only eligible workspace customers can access it.
If you are not already a workspace customer, check out the criteria and try signing up.
To Use Duet AI
Go to Google Admin Console
Click "Billing" from the sidebar
Once it gets expanded, click "Subscription"
Then, click "Add or upgrade a subscription"
Next, click "Google Workspace add-ons"
Lastly, click "Start Free Trial" on the Duet AI for Google Workspace Enterprise card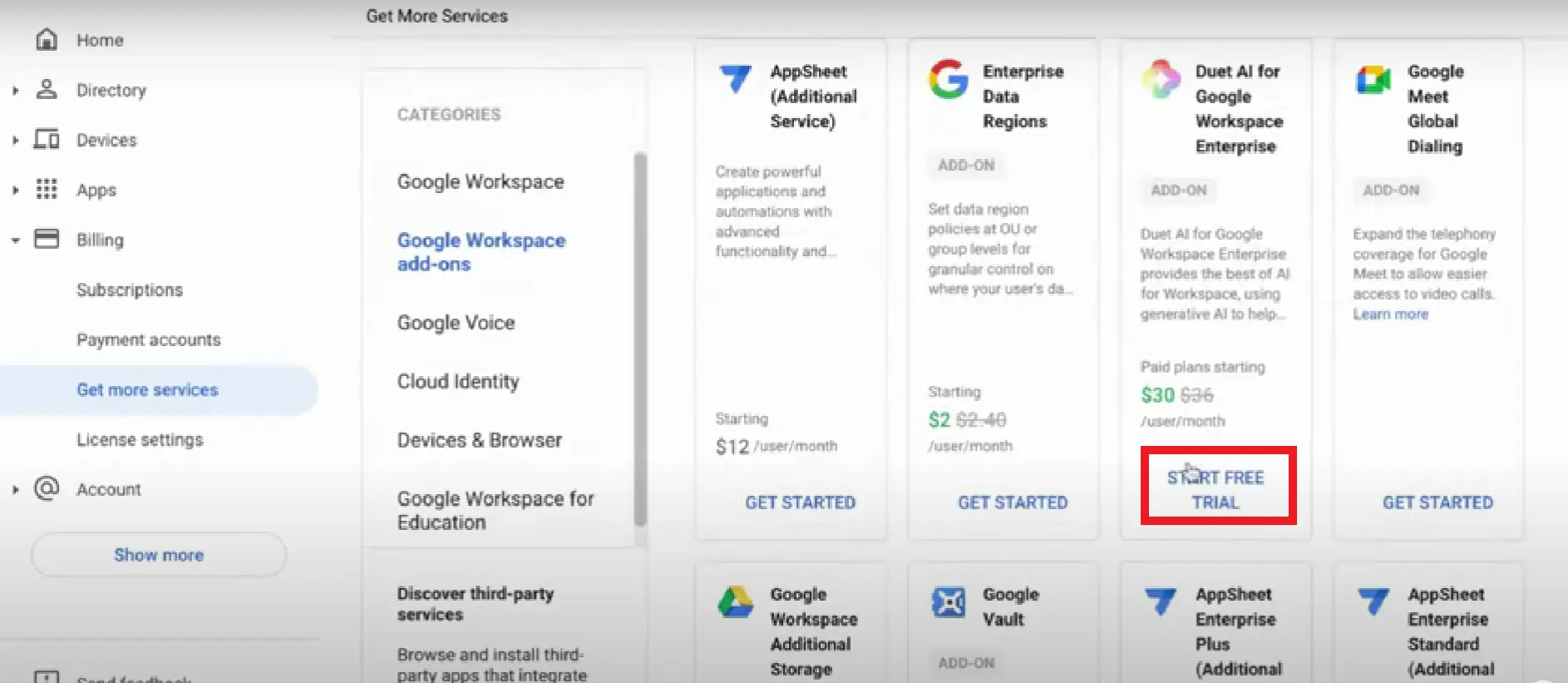 Reason for Google to Implement AI in its Workspace Products
Millions of people around the globe are using Google Suite products in their daily lives, as the products are accessible anytime and anywhere for their professional and educational purposes.
Responding to the success of OpenAI's ChatGPT among users worldwide, Google also wants to stay ahead in the race of AI with its workspace products. So, Google developed this plan as a big booster for students and corporate workers worldwide.
Google AI features on docs, sheets, and email will make work more manageable and help produce creative and standard content.
Benefits of Google AI in docs, sheets and Gmail
Reduced time and effort: It will help to create quick content for blogs, presentations, formulations and summarize text, further helping to focus on creative side work.
Generate quick responses: It assists in providing prompt responses to customer queries and urgent requests.
Level-up sales productivity: Capable of creating customer-centric content that targets sales, with the primary goal of increasing revenue growth.
AI Features in Google Docs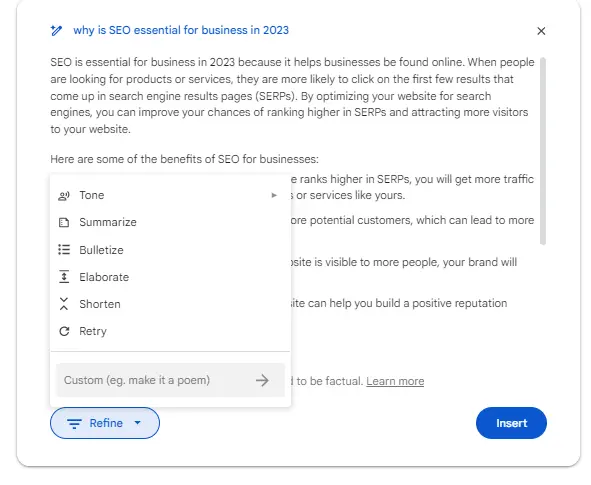 Help me write
This nifty feature generates an entire script based on the prompt into bullet points and even summarizes paragraphs. You can also install the "help me write" Chrome extension and create any content as per your need.
Smart Compose
Assist in autocompletion as you type the sentence, focusing on making the writing process faster.
Grammarly Integration
It has integrated Grammarly in docs to proofread and deliver well-written finalized content.
Explore
This feature delivers personalized suggestions and insights, presenting related web information, definitions and synonyms at your fingertips.
Let me get you through an example for better understanding,
Google Docs offers a range of collaborative features that can be useful for various purposes. Whether you're an email marketer seeking to create custom mail templates for your audience or a teenage girl planning a birthday party and in need of an invitation, these features can help you draft the content as per your needs. You can always edit later on if necessary.
AI Features in Google Sheets
When working with Google Sheets, users can rely on AI to generate accurate formulas for mathematical calculations. It even tracks the data, analyzes it, and auto completes the rows and columns with the desired missing data.
To better illustrate, let's take an example:
Assume you have a spreadsheet of your company's expenses for the previous year that contains the following columns:
Date
Category
Amount
You wish to analyze your spending data and try out ways to:
Fill in the missing amounts.
Get a quick summary of your expenses, such as the top five expense categories.
Organize your expenses month-wise.
AI Sheets can complete this task within a few minutes by its features:
1. Smart Fill
Choose a cell in the "Amount" column that is missing an amount and click the "Smart Fill" button. Smart Fill will detect the missing amount based on the patterns in the existing data and fill it in automatically.
2. Explore
Click the "Explore" button and enter the query "Show me a chart of the top five expense categories." Explore will generate a bar chart that displays the top five expense categories.
3. Help Me Organize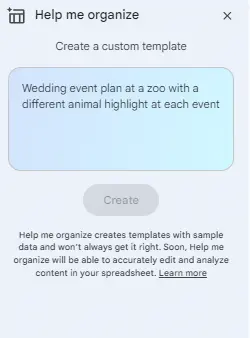 Click the "Help Me Organize" button and enter the prompt "Organize my expenses by month". Help Me Organize will create a new table with the required columns.
AI Features in Gmail
Smart Reply and Smart Compose
These are two features in Gmail that can save you time and effort when writing emails. Smart reply suggests short responses for incoming emails, while Smart compose offers suggestions for words or sentences as you type. You can accept these suggestions by pressing the tab key or reject them by continuing to type.
To enable these features, go to your Gmail settings, select "See all settings", and then navigate to the "General" tab. Scroll down and select "On" to activate Smart Reply and Smart Compose.
Help me write
Generate draft emails based on the user's prompt. To do so, click the bottom icon in the compose section or install the "help me write" Chrome extension. Then, you can respond to and send your emails within minutes.
Priority Inbox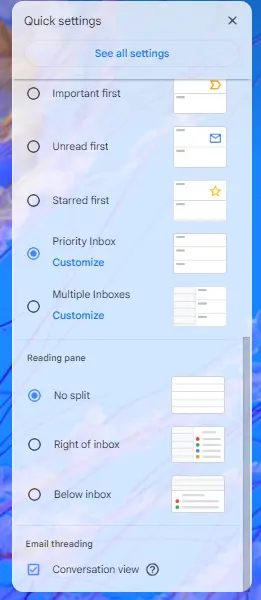 Gmail's Priority Inbox feature automatically organizes your incoming emails into different tabs based on their level of importance and helps you focus on the most significant emails first.
To activate Priority Inbox, navigate to your Gmail settings by clicking the icon and selecting "See all settings." Next, click the "Inbox" tab and select "Priority Inbox."
Conclusion
Google is actively investing in artificial intelligence to significantly enhance the capabilities, user-friendliness and security features of its Workspace tools. So, Google is poised to introduce many innovative features in the near future, such as helping people to create and translate content, automate tasks and personalize their Workspace experience.
FAQs
1. Are Google AI Workspace features released?
Currently, Google has released its AI-featured products to some users and testers to detect the errors. Google is planning to release the products globally in the upcoming months.
2. Can Google Docs detect AI-generated text?
Google can detect AI content only if it violates its guidelines. It doesn't have that particular feature to identify all AI content, but I am sure they will develop it soon.
3. What are the drawbacks of using AI features in Google Workspace Suite Products?
Sometimes, it can be biased and lack straightforwardness based on their data training. It can use some personal details, leading to security issues.
4. Is Duet AI available for all users?
Duet AI is a generative AI feature that is implemented in Google Workspace. As of now, Google Duet AI is only available for enterprise users with free-trial.It is not available in the free versions of Google's applications.