Everyone of us on a daily basis depends on GIFs that helps us accurately convey our thoughts and feelings when we are limited to virtual communication.
And for that, you need to find the right GIF that doesn't have to be a lengthy one, you just have to know where to look.
To help you ,we have collected 9 awesome websites available in this blog that will help you find what you are looking for quickly, without forcing you to lower your GIF standards by saving your time.
GIPHY

Tenor

Reddit

Gfycat

Imgur

Reaction GIFs

GIFbin

Tumblr

Imgflip
GIFs have come a long way. Invented back in 1987, they have evolved from a mid-2000s internet oddity into everyone's favorite photo format. At this rate, they will likely replace words as humans' primary means of communication by 2027.
No amateur web designs / blogs that haven't been updated since 2006.
These are the GIFs that keeps on giving. And this blog will be featuring about the best GIFs you wanted.
Watch the video below on different GIF types, or step by step guide on how to make a GIF.
https://youtu.be/eOo3kdzKG1g?t=1
Before getting into the best GIFS let us look how GIFs are used as tools in buisness,and why it is necessary to use them?
GIFs in a Business Setting
GIFs are another form of visual content that can be used for both fun, and strategically for marketing.
For business, they can be a tool to demonstrate company culture and drive more engagement by appealing to customers looking for authenticity.
Facts
On an internal level, exchanging GIFs in conversation or including them throughout presentations can help break up the monotony of day-to-day business.
Adding some level of quirkiness in meetings or seminars can keep employees more engaged and satisfied than otherwise.
It never hurts to share a quick laugh in the office, as long as you don't get too carried away.
55% of B2C content creators say that creating or sharing visual content is a big priority for them presently.
Similar to videos or live recordings, using GIFs to convey ideas in a business setting offers viewers visuals that are more stimulating than text-only content.
For instance, when people hear information, they're likely to remember only 10% of that information three days later. However, if a relevant image is paired with that same information, people retain 65% of the information three days later.
Also, using GIFs on social media accounts is a great way to catch the attention of potential customers.
Whether it's Instagram, Twitter, or a blogging platform, adding a visual like
GIFs to your post can prove useful to a business.
1. GIPHY
This is my go-to resource for GIF hunting. Launched by Alex Chung and Jace Cooke, GIPHY started out as a search engine for GIFs.
They've grown GIPHY significantly by partnering with brands, introducing integrations, creating browser extensions, and much more.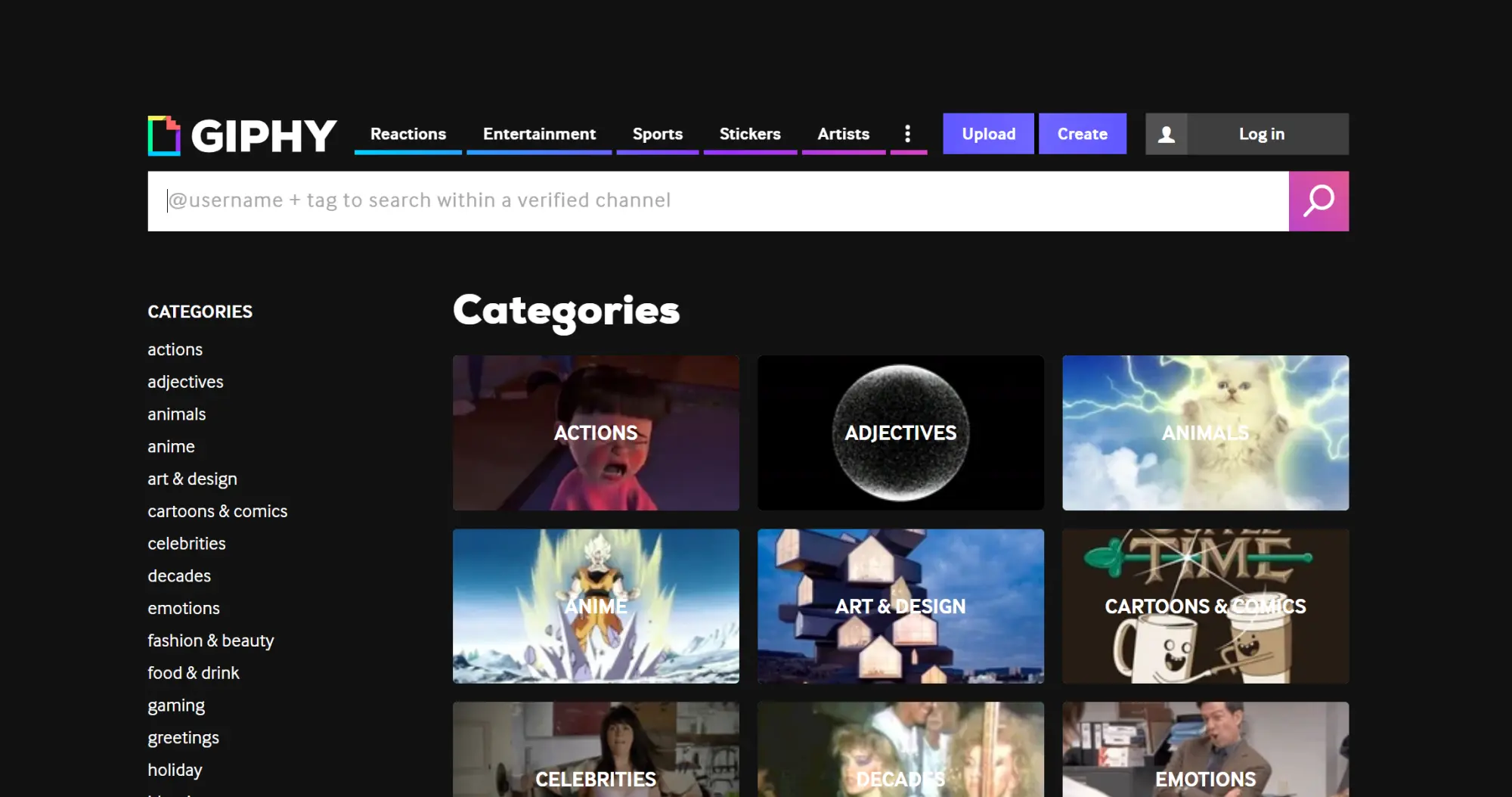 The best part? Navigating the database of GIFs couldn't be easier.
Users can browse categories — Adjectives, Music, Nature, Science, etc. — or seek out a specific word or phrase using the search functionality.
2. Tenor
Originally called "Riffsy," the company that invented the GIF keyboard changed its name to Tenor.
it is now GIPHY's biggest competitor.
To be honest, they're very similar—their search functions work exactly the same, and their layouts are almost identical.
One vital difference? The GIFs.
Try it out.
Type the same word into GIPHY and Tenor, then hit those search buttons. The results are surprisingly diverse.
Here's an example:

Look at all those pugs staring at you in both sites.
They are chilling yet effective,Right?
3. Reddit
Reddit is like the mothership for GIFs.
The community boost not only one, but several impressive GIF-related subreddits.
Here are a few noteworthy ones:
/r/gifs/
/r/reactiongifs
/r/analogygifs
/r/highqualitygifs
/r/dancegifs
"reaction gifs" and "analogy gifs" may sound pretty similar, there's actually a difference according to the /r/reactiongif's wiki page.
4. Gfycat
Gfycat is another gallery with millions of GIFs to dive into.
Not only it is one of the most popular GIF sites, but it has an easy Video-to-Gif creator tool to turn your favorite Twitter, Vimeo, and Twitch streams into your library of memes.
Navigate its selection of GIFs from the search bar or left menu, choosing from the latest "Trending" or "Explore" section to find different popular categories of GIFs or stickers.
It also honors cats in its name, so it must be legit, right?
5. Imgur
Fed up with directories and want to get straight to the source?
Ah yes, Imgur, the Reddit of GIF sites without all the text threads.
Imgur is a general image hosting site where anyone can upload.
Similar to Reddit, there's some real gems in there that you won't find anywhere else. Be prepared to do some digging though.
Issues :
It's not a dedicated GIF site, so you will have to add "GIF" to your searches.
And the thumbnails don't move, which is a shame.
6. Reaction GIFs
This site serves up an appropriate GIF for just about anything you're thinking.
Depending on what you're searching for, there are several different ways to uncover a perfect match.
For example, a search for "excited" might surface something like this!
Users also have the option to search by galleries or tags such as "OMG," "Dance Party," and "LOL," but there's plenty more tags to explore.
It lacks the sophistication of some of our other suggestions, but it works as a quick go-to.
7. GIFbin
Personally ,me and my family members like GIFbin, but I don't really know why?!
Does it offer an API, advanced search mechanisms, or a sleek design?
No. So what does it have?
A shitload of GIFs.
The interesting thing about GIFbin's tag system is that they are categorized by both name and count.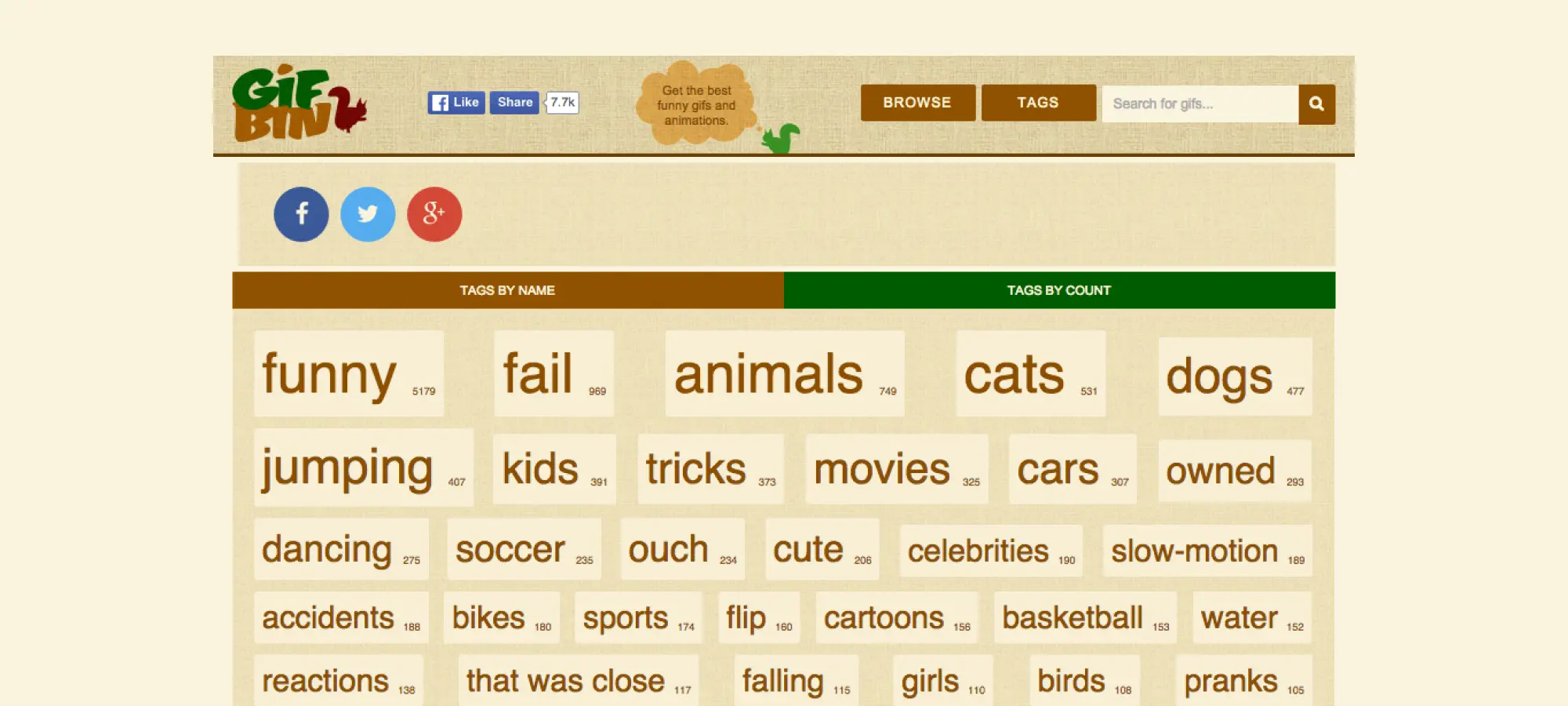 If you've got too much free time on your hands like me, click through the rabbit hole — I mean— "random GIF" button for endless fun.
8. Tumblr
Tumblr is a huge blogging platform where GIFs are made and shared insanely.
Bloggers on this platform do an excellent job of pairing relevant GIFs with relatable scenarios.
There's plenty of blogs dedicated to sharing funny GIFs daily, but the favorite hashtags to share on a work day would be like #work-memes #workfromhome and more.
For instance,
9. Imgflip
Imgflip is an another extensive library of GIFs.
There are a few ways to browse Imgflip content,
Hot/Latest images on the homepage.
Use the Previous / Next / Random navigation on image pages.
Use the hotkeys as described on image pages.
Tag pages (such as cats/especially pets).
Meme pages such as Grumpy Cat, found on the meme templates page.
Oh yeah, you see that Imgflip tag in the corner there?
It's on all their content, so take that into consideration before you start flipping those images.
Also if you like a little competition, you can create your own GIFs and earn a spot on the leaderboard.
If your GIF gets upvoted enough, you can bask in the glory of making strangers on the internet laugh.
The World is your GIF library
True, there's a ton of other GIF websites around. But they are not as user-friendly.
And they lack the rugged aesthetic charm of GIFbin.
Whether you need to send one to your co-worker's birthday email chain, or make your brother, Trevor, laugh at the dinner table, we hope this list helps narrow down your search for the perfect GIF.
And if you can't find the GIF you're looking for with the suggestions above, chances are you will have to make it yourself.
But, as the old saying goes — take it until you make it.