If a goal is something so easy and common, why will not everyone do it?
Goals are not so common but specific, measurable and yet achievable. With relevant time management and strategy you can take the steps needed for long-term success.
For starters, it gives your company a sense of purpose. It can be easy to get caught up in the day-to-day grind and forget why you're doing what you're doing.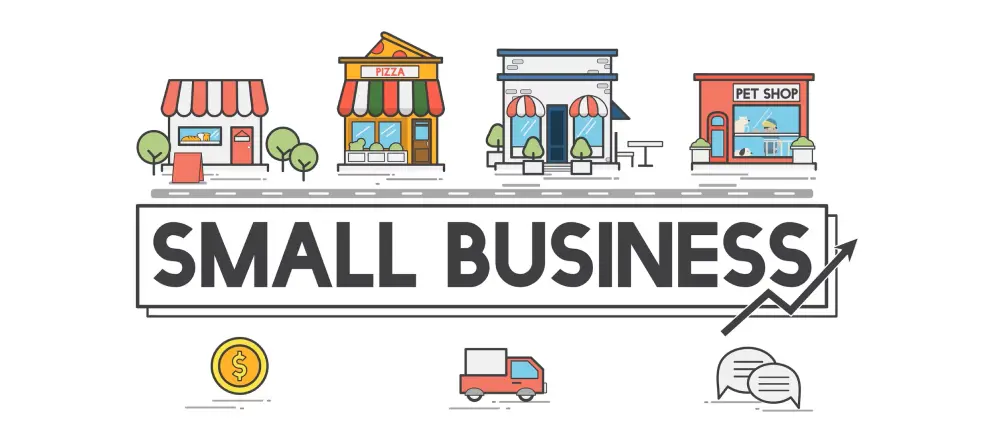 Image Source : Freepik
Small businesses tend to interact with their audience more directly, and on fewer fronts than corporations.
Although you may have fewer resources, small businesses have many advantages if used wisely.
Creating SMART goals to connect with your audience can make all the difference.
What are SMART Goals?
SMART stands for goals that are specific, measurable, achievable, relevant, and timely.
The SMART goal system is impactful for business marketing strategies, project management and overall growth.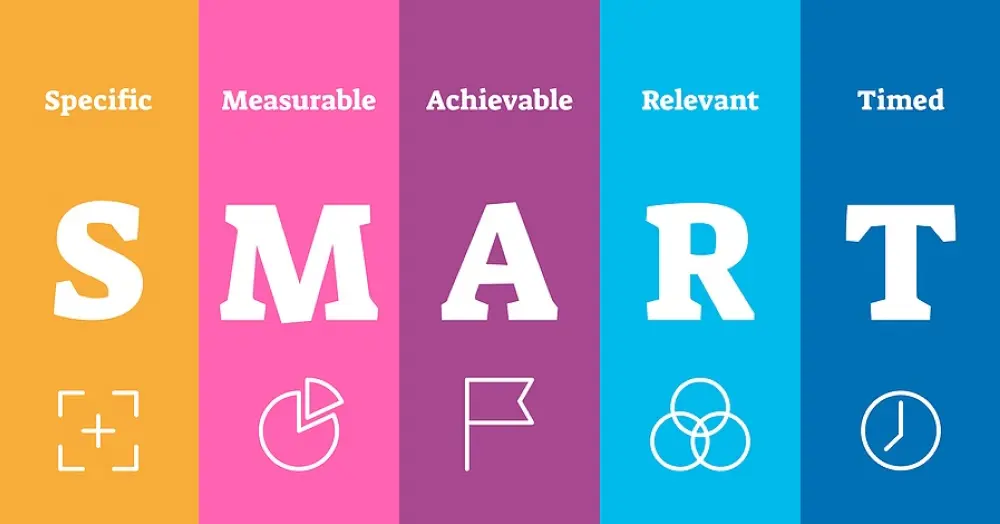 Image Source : Simplilearn
It provides a model to identify strengths, track progress and room for improvement. Let's brief each one.
Specific — Having a clear, specific outcome in mind is key to making a SMART goal.
Challenges — A broad goal could leave members of your team asking questions at the very least. If you leave goals open ended you'll experience miscommunication and poor execution regarding what you're trying to accomplish for any given goal.
The most common issue is that your employees or key figures might interpret your goals in a different way than intended.
Example – You want to "generate more leads" isn't specific enough to give your team proper direction. You leave open questions such as
How many leads exactly? One person might think 20 is another, while another might aim for 100.
What kind of leads count towards this goal? One might decide you simply mean newsletter signups?
Right Approach — Say, "I want to generate 20 more leads through our website by the next quarter." This SMART goal has a specific action, count, source, and timeline.
Think through the exact process you envision for you, or your team needs to take to accomplish the task.
Measurable — When you set goals, it's important to make sure you know what metrics you will use to evaluate whether and when you've met your goal.
Challenges — The toughest area with respect to making your SMART goals meet the measurable standard is finding the actual measurements.
Example – You would need to have Google Analytics Conversions set up for your website or some other method for counting your leads.
Right Approach — When crafting the measurable factor, you must
set a measurable value and you should have a way to take measurement of the stats.
Measurability allows you to then break this quantity into benchmarks.
Measurable goals and objectives can be quantitative, like how many returns or outputs you receive or produce; or they can be qualitative, based on the quality of those same returns or outputs.
Achievable – It's important to prioritize achievability when you set business goals.
Challenges — 'I want to make this much (say 1 dollar million) in sales this year!' Your goals can be ambitious but you just opened your business 3 months ago. And so it has to be realistic too.
A goal that you can take feasible steps towards will tell you more about the nature of your business, the way you run it, your customers, and the goal itself, rather than working towards something outside your capacity.
Right Approach – Realism and pragmatism are absolute key here.
You can motivate your team with a goal that's within reach but take that extra push to achieve. As you continue setting SMART goals over time, you can push them a little further with each iteration.
By defining achievable goals, you're also allowing yourself to experiment with what works best for reaching this goal, based on your measurements.
Relevant – Refers to the pertinent characteristics of your business.
Challenges — What you measure is what you get in terms of what you want from an employee.
Example – If you run an online magazine,a relevant and timebound goal is to increase the number of monthly subscribers by 25% this quarter.
It takes some effort on your team's end, but they can hit their goals without the business reaping any benefit.
Right Approach — Why are you setting this goal? Is it relevant to your business? How does it accomplish your overall business objectives? Focus on the results you're trying to produce. Say "I want to generate 20 subscribers to drive business growth."
The goal may be 'generate 20 more leads for business growth', with the results being business growth ultimately.
Most businesses want to attract a bigger audience and increase their revenue, of course, but relevant goals help you identify what you will do specifically to grow your business.
Timely – Having a timeframe for when you want to achieve your goal makes the process of planning and executing clearer and more organized.
Challenges — You need to find that sweet spot of being reasonable but aggressive. The typical failures here are either goals with either too long or short of a timeframe.
Right Approach — If you are setting sales goals, then your time frame for each goal should at the very least start at the quarterly level.
Chances are you're already measuring sales data and hopefully meeting on a quarterly basis.
This both makes measuring and setting the goal values a bit easier based on existing trends, but also you can easily bridge meetings and expectations into what your team is already comfortable with.
A deadline can be a powerful motivator, and it will help your team work together towards a clear finish line and better time management.
SMART Goal Examples
Let's imagine a small business with the impressive goal of becoming completely carbon neutral or reaching net zero emissions.
The goal is laudable, but how will the company achieve it?
One step toward that objective might feature the SMART goal of switching 50% of plastic packaging materials to compostable packaging materials by the end of the quarter.

Image Source : Geographical Magazine
The goal is actionable and brings the company closer to its overall goal of operating as a carbon-neutral entity.
Compostable packaging alone won't get the company to complete carbon-neutral status.
Still, it will help get the company closer to that end goal, and it's an excellent selling point on the company website and sales literature.
"Make more profits" Vs. "Increase revenue 10% each quarter until the end of the fiscal year."
10% is a specific, measurable amount that's relevant to the goal of increasing overall profits.

Image Source : WallStreet Mojo
It puts "increase revenue" in achievable terms, and using quarters of the fiscal year is a timely measurement.
"Be more present online" Vs. "Increase unique blog views by increasing social media marketing content over the next month."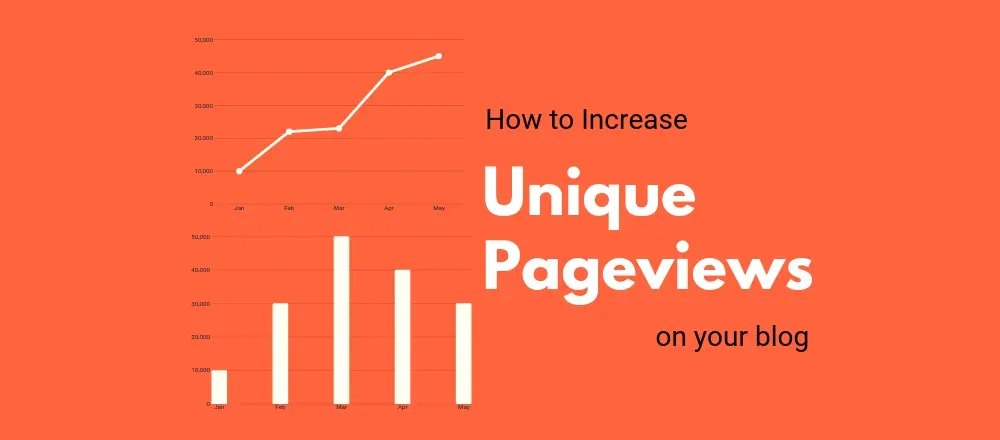 Image Source : DigitalNuisance
Unique views are a specific audience metric that is captured by your website or marketing platform, increasing social media marketing is measurable quantitatively, and it's an achievable, actionable item, while "over the next month" is timely.
SMART business goals are about building focus, deepening relationships with your audience, achieving your goals and improving your strategies as you grow.
Wrapping Up
Keep in mind that these are merely examples to help you craft your vision for how to set your own small business goals.
By using the SMART framework, you can improve your business operations, project management and start achieving the goals that matter most.
The key point is that you're first setting goals at all, but that when you do, they are done in a fashion designed and proven for your success.
However if you need help setting SMART Goals for your business, we're here to help! Let's know in the comments .