If you are someone interested in writing an eBook and want to learn how to create an eBook? Learning how to create an ebook looks overwhelming but it can be done simply.
eBooks not only involve you focusing on writing content alone but also designing the book professionally so that it keeps the people attracted to buy and read it.
Though it may be a complex process as it looks, it is not and this article will help you with that. In this step-by-step guide, you'll learn how to create an eBook that stands unique.
Let's dive in from the basics!
What is an eBook?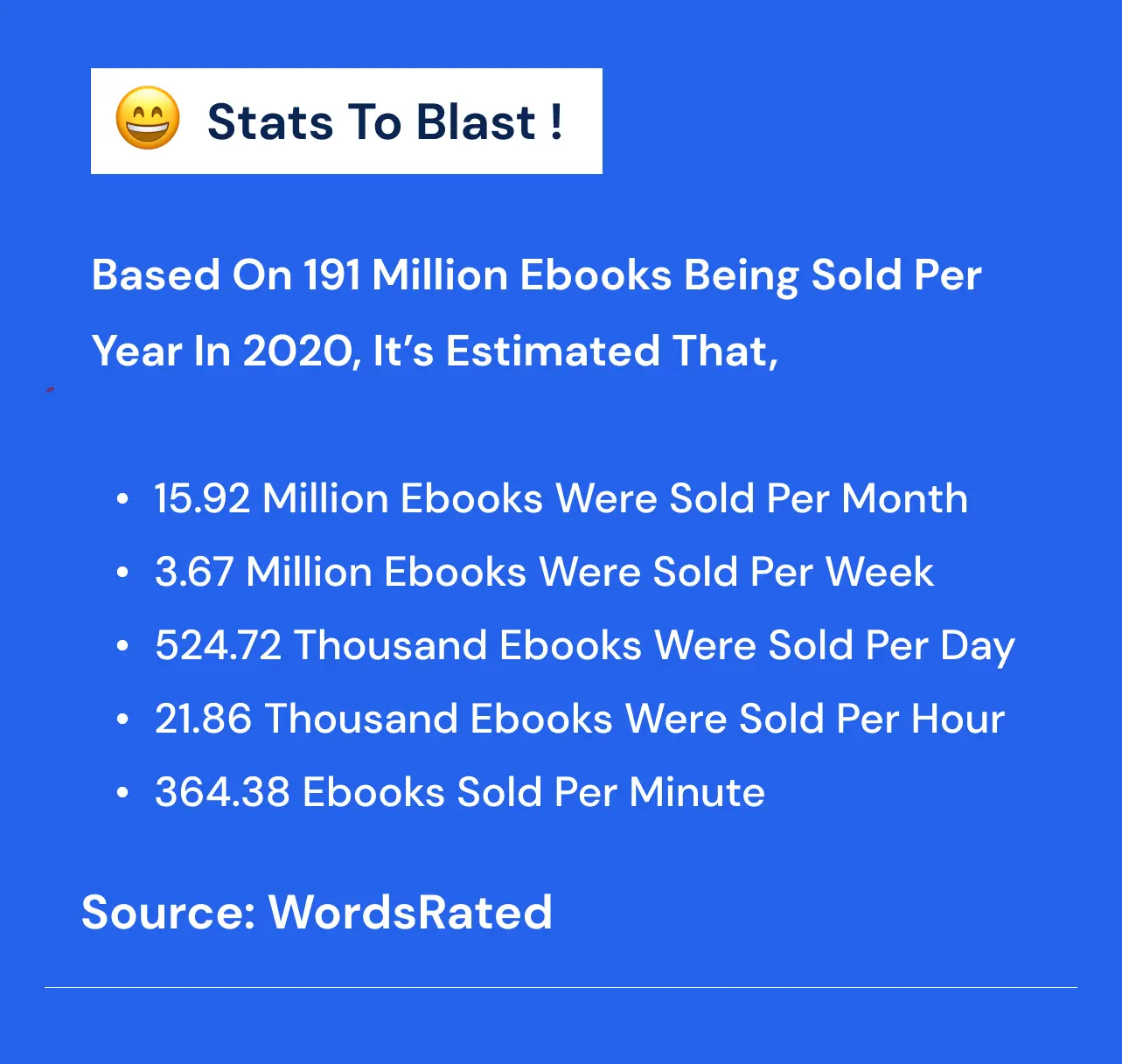 An eBook is merely a digital form of a printed book designed to be read on devices like computers, tablets, or smartphones.
eBooks are mostly packaged as PDFs, which are important marketing assets in the growing industry.
eBooks can increase the visibility and credibility of your business while positioning your brand as a thought leader in your industry.
Steps to create an eBook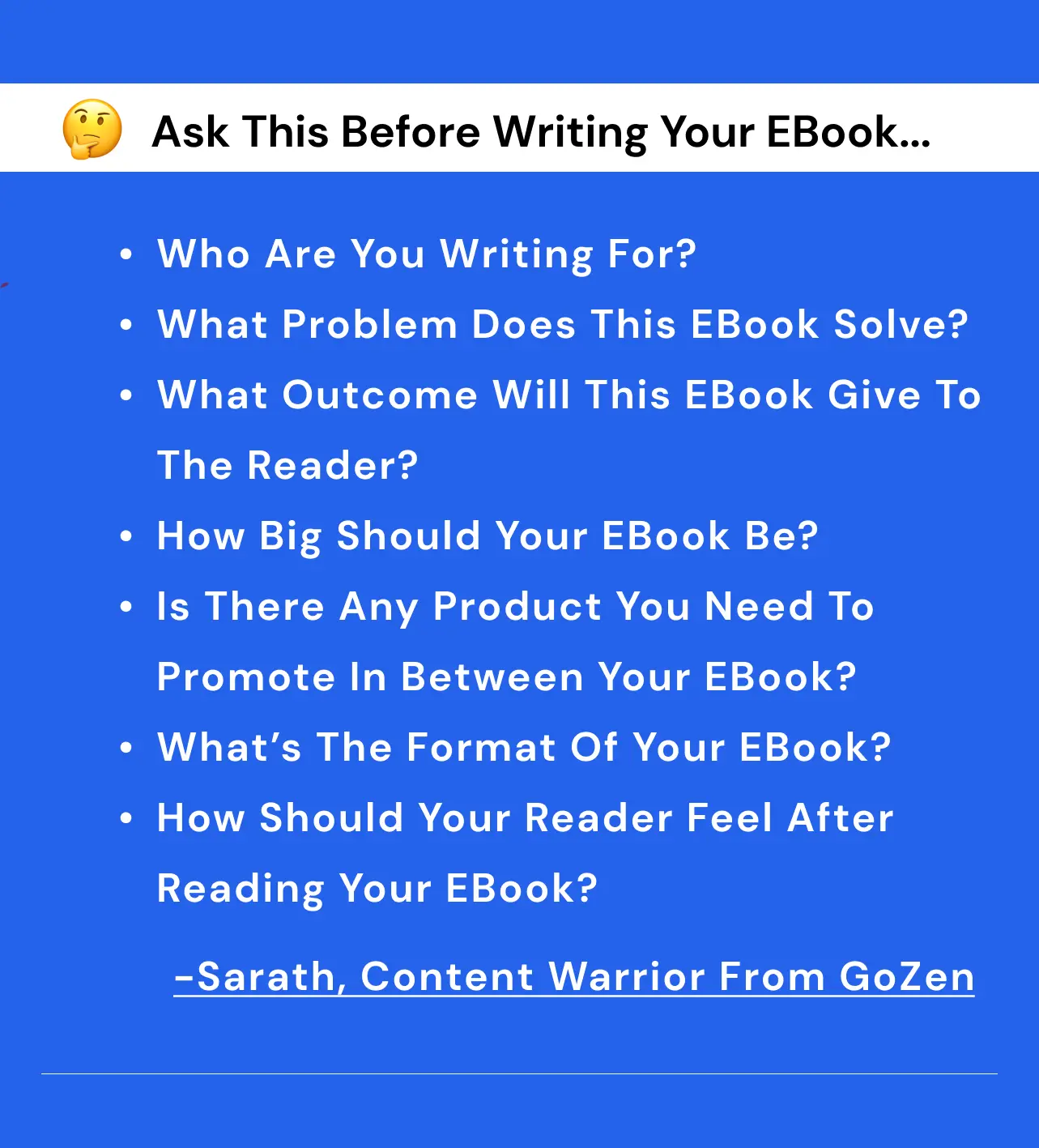 Write your eBook content that matches your audience
Books or eBooks wouldn't exist without good content. Whatever may be the theme of your book, make sure you resonate your Content with your targeted audience.
An eBook from your side should give value to your readers. It should make sense.
Knowing your audience will make the content creation process much easier. Use lucid language that your audience loves to read, in a precise format.
If you can imagine your audience nodding their heads at what you have written as they read, then you are going in the right direction.
Do qualitative research to give your readers the best information possible. Fact-check everything and cite any sources you may have.
Make the title of your eBook more catchy, and informative and should encompass the topic completely.
Readers must know what they are getting from your eBook before they download it.
Content Organization is a must
Before designing your eBook, first, organize your content into sections.
Your eBook will look great if you have a table of contents with descriptive titles for each section of the book.
Use concise words for each topic heading.
Make bulleted points and add visuals to your book where you need to. Make informative paragraphs in the book into infographic visuals.
Add captions or quotes in between the content that suits the context. Edit and proofread all your content.
Use online editors like Grammarly to correct the grammatical mistakes in the content to make it more professional.
Have a clear page layout before you design your eBook cover. ### Style your eBook
If you're creating an eBook for your brand or your reader's style your book according to the needs. Have a style guide.
This will save you precious time and let you concentrate on making your content great. Design a style guide for your eBook with
Colour scheme.
Font pairing.
General idea about textures and shapes.
Have all the styling information on hand along with your content.
Use Canva to easily create impressive visuals for your E-Book, even if you don't know how to design.
You need not be a digital illustrator or a graphic designer to create a stunning, splendid eBook.
Add visuals to your eBook
The most important part of an eBook after organizing content is the addition of visual images that too in a balanced way.
Add the right amount of visual interest to grab the reader's attention.
Each page of the book should have a nice balance of text and visuals. There are a lot of free editing apps available online to add the visuals you like as per your requirements.
Publish your eBook
Once your eBook is ready, it's time to make it available for your readers.
Will you be giving your eBook in exchange for email signups or selling it on your website?
If you are going to offer your ebook for free download in exchange for an email, you can add a sign-up form on your website.
Recommended: Use Optinly to create stunning signup forms. Give your username and email address to sign up, and make your signup form for free and use it on your website.
Set up the form so that when someone signs up, they receive an email with the link and a thank-you note.
If you're planning to sell your eBook, then it might be a good idea to convert it into the format that your readers love and have it in their Kindle.
For this, you'll need a PDF to EPUB converter. There are plenty available online, try a few that suit you, which I'll be talking about later in this blog.
Promote your eBook
What's the point of putting all the effort into writing and designing your eBook if you don't promote it?
Create some social media graphics and eBook cover design for your ebook for a great-looking image of your book.
Share them at a place where you can get your reader's attention, and show them how your eBook will solve their problem.
Email your subscribers with a link to download the eBook. Ask them to share it with interested friends.
Tell your followers on social media platforms a little about what's in your eBook and show them the table of contents.
Write an article on your blog about your eBook. Promote your eBook on your homepage. Ask some of your readers for testimonials about the book and include them in the article.
You can also create a landing page where you show the eBook cover, a little description and a sign-up form.
Make sure to keep SEO in mind when optimizing your landing page to ensure that Google properly indexes and ranks your eBook.
Choose the right software for your eBook
You won't be able to create and promote your eBook unless you have both quality content and quality design.
This is why it's essential to take advantage of the right eBook software so that you can easily put together an eye-catching ebook that your audience can't wait to dig their teeth into.
Depending on your audience, there are a few types.
PDF —PDFs are likely the most well-known file type. The "PDF" is best for eBooks that are meant to be read on a computer.
EPUB — This file "Electronic Publication" is a more flexible eBook format. They're particularly helpful for viewing on smaller screens, such as smartphones and the Nook from Barnes and Noble.
MOBI —- The MOBI file extension remains a popular eBook format compatible across the major e-readers. Newer Kindle formats are based on the original MOBI file types.
AZW —- This is an eBook file designed for the Kindle, an e-reader device by Amazon.
ODF —- ODF stands for OpenDocument Format, a file type meant primarily for OpenOffice, a series of open-source content creation programs similar to Microsoft Office.
IBA —- IBA is the proprietary eBook format for the Apple iBooks Author app. This format is only used for books written in iBooks. It is not compatible with other e-readers.
Wrapping Up
You can always start an eBook by following these steps and writing your content first before choosing a template or design style and then inputting your content.
This ensures your eBook design is perfect and makes your content rich.
It's never too late to create your eBook. What else are you waiting for?