Survey research in historical times included large data collection done, to know about the people and country so that the ruler could administer the system well. Today it has modernised to online survey tools to know your customers, employees and audience better making the process simple, reducing the worry and marketing costs involved in paper and printing.
Online survey - creates a survey -generate a basic HTML form - post it on the internet where all the tasks are automated. Gather customer feedback ,product feedback, conducting market research and employee engagement surveys. These free online survey makers can help you grow your business.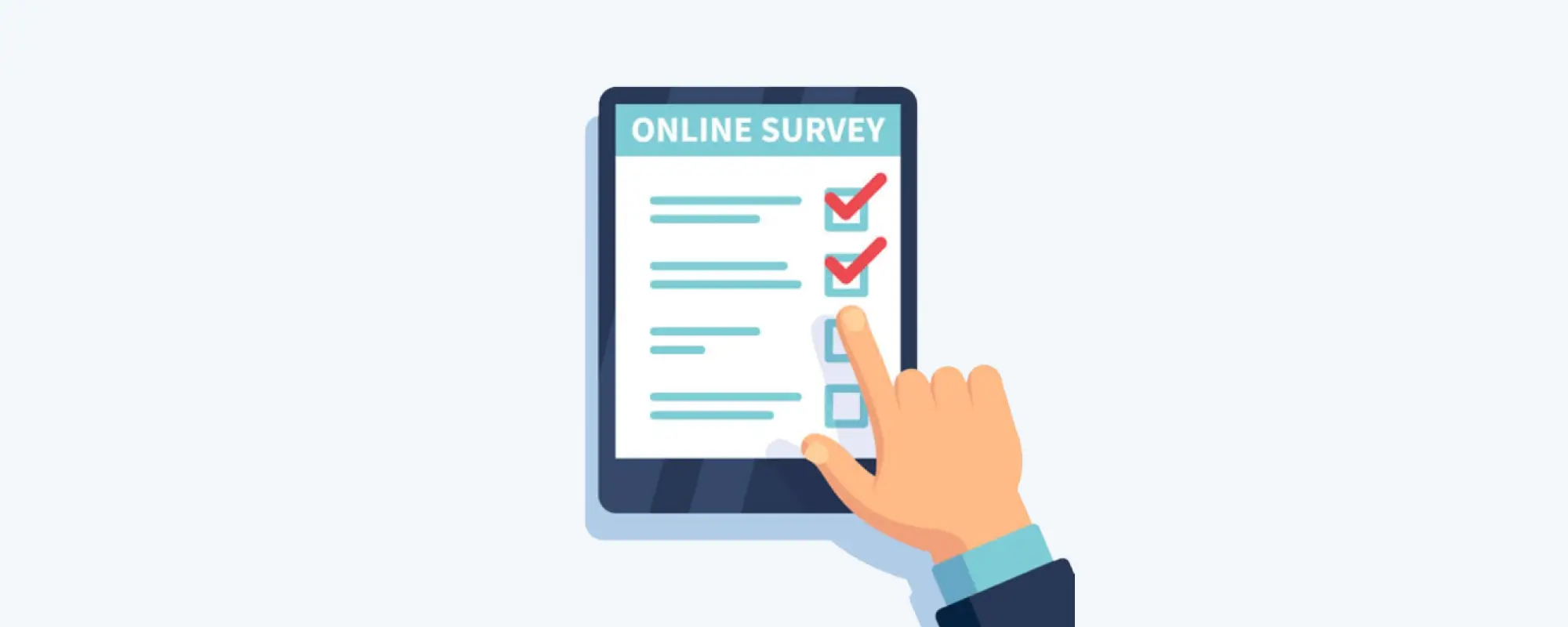 With enriching technology, creating surveys has been a cakewalk for marketers with low costs, convenience giving good productivity. There are so many best online survey tools out of which we have picked the top 15 for you to use in the new year.

 

Before getting into the best online survey tools we'll tell you why you should go for online survey tools.

 

1. Convenience and Simplicity

 

It is quite easy to create surveys quickly and send invitations through an email. The email contains a link to the survey questions. All the responses are captured electronically. Internet survey tools make it very convenient and simple to collect data.

 

2. Economical

 

Online survey tools are very economical. You can easily buy a survey tool at a very adordable price. You can even buy it as a service in a hosted application. Usually, the monthly subscription fee is as low as $20. You get a chance to select additional features in your price range

 

3. Easy survey

 

Unlike paper or telephone surveys, online survey tools allow you to easily survey thousands of people. In fact, you can survey 1,000 people as easily as surveying just 10.

 

4. Capture Data Quickly

 

Obtaining data quickly determines the effciency of a survey. Quick data capture allows you to address the right kind of issues at the right time.

 

5. Response Rate

 

Response rates for web surveys have always been much higher. On an average, response rate may be as high as 50%. Healthy relationship with your target audience ensures a high response rate.

 

6. Flexibility

 

Web surveys are quite flexible. Internet survey tools allow you to create easy and tough questionnaires as well. You can use different techniques and features to set questions. This allows you to get accurate results based on your target audience.

 

Now here are top 15 best online survey tools and apps to use in 2023.

 

1. Gozen Forms

 

One of the best free survey tools with no fancy coding skills,

GoZen Forms

lets you create any kind of form to attract the type of leads you're looking for. It has dynamic pre-made templates and gives you real-time insights.

 

Features :

 
Builds responsive online and survey forms from scratch or with pre designed templates.
Unlimited interactive forms using a no-code builder.
180 industry-specific form templates from registration forms to customer service surveys.
Personalized interactive online forms, surveys, and quizzes that attract the most qualified leads.
Create your own themes according to your taste.
Built-in analytics to check results across devices in real time.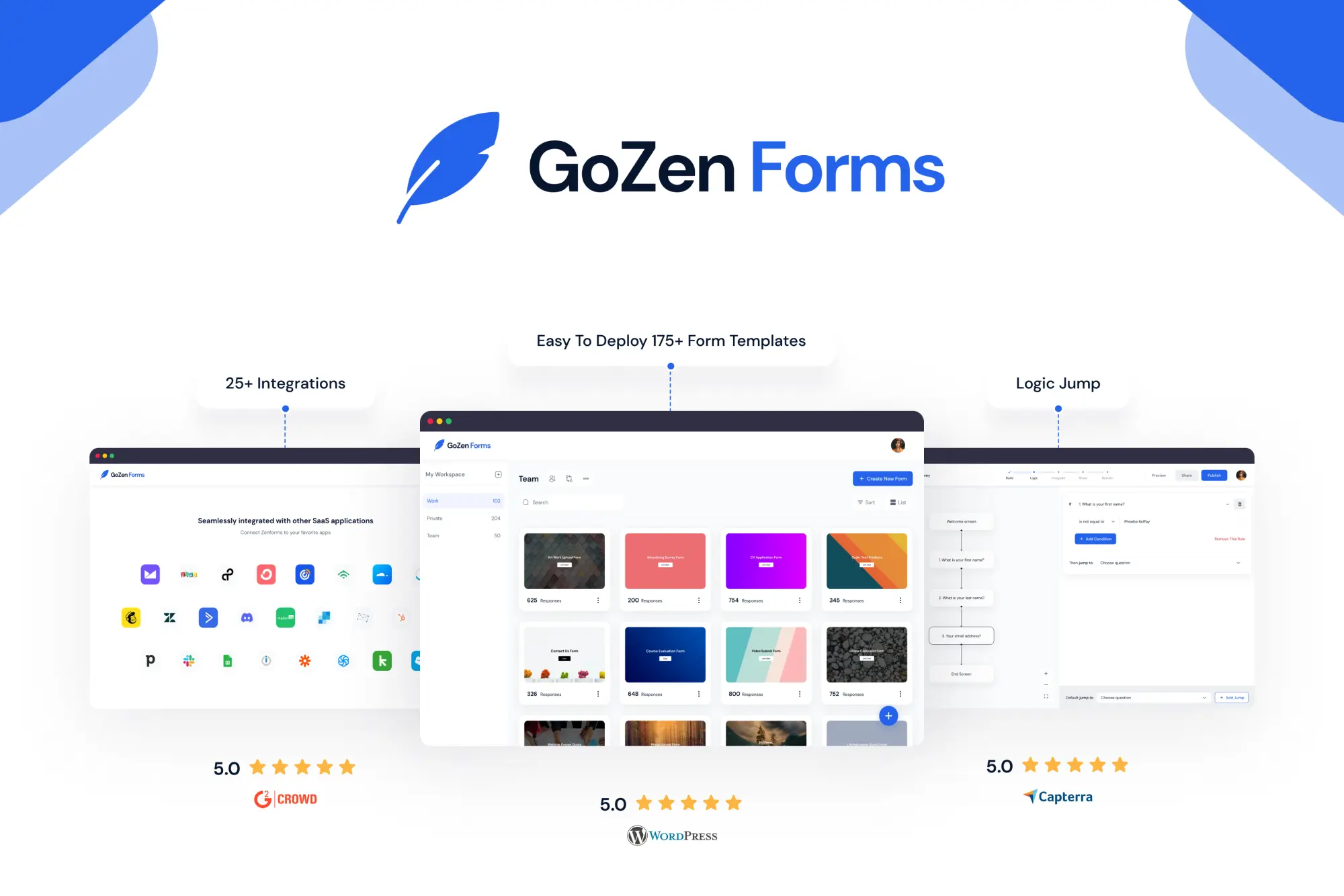 Conditional logic helps to create dynamic surveys that sets the right questions.
Vibrant dashboard to create custom shared workspaces.
Customization of content is easy to fit your target audience and branding.
Multiple survey share options available.
Integrates with a ton of apps including Stripe, Google Sheets, and Mailchimp to streamline your workflow.
Lead generation feels like plug-and-play with GoZen Forms.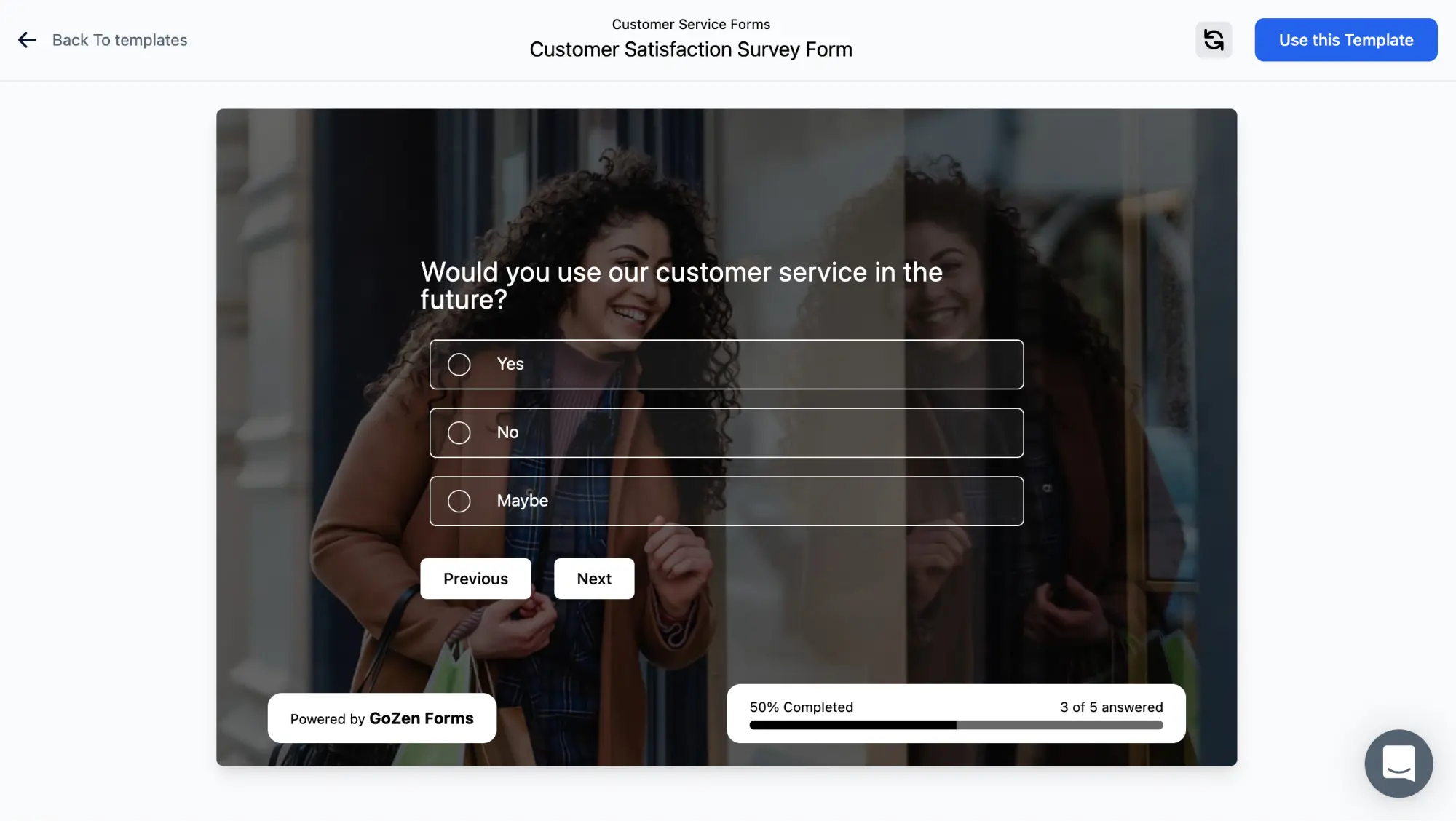 Price : Completely free and starter starts at $9 permonth.
2. Typeform
One of the best online survey maker tools, famous for having a unique interface is Typeform. It is used to create conversational surveys that gather deeper user insights along with syncing survey responses like Google Sheets.
Features :
Customized surveys using a drag-and-drop interface.
800+ survey and form templates.
Distribute surveys using on-site pop-ups and push notifications.
No coding required.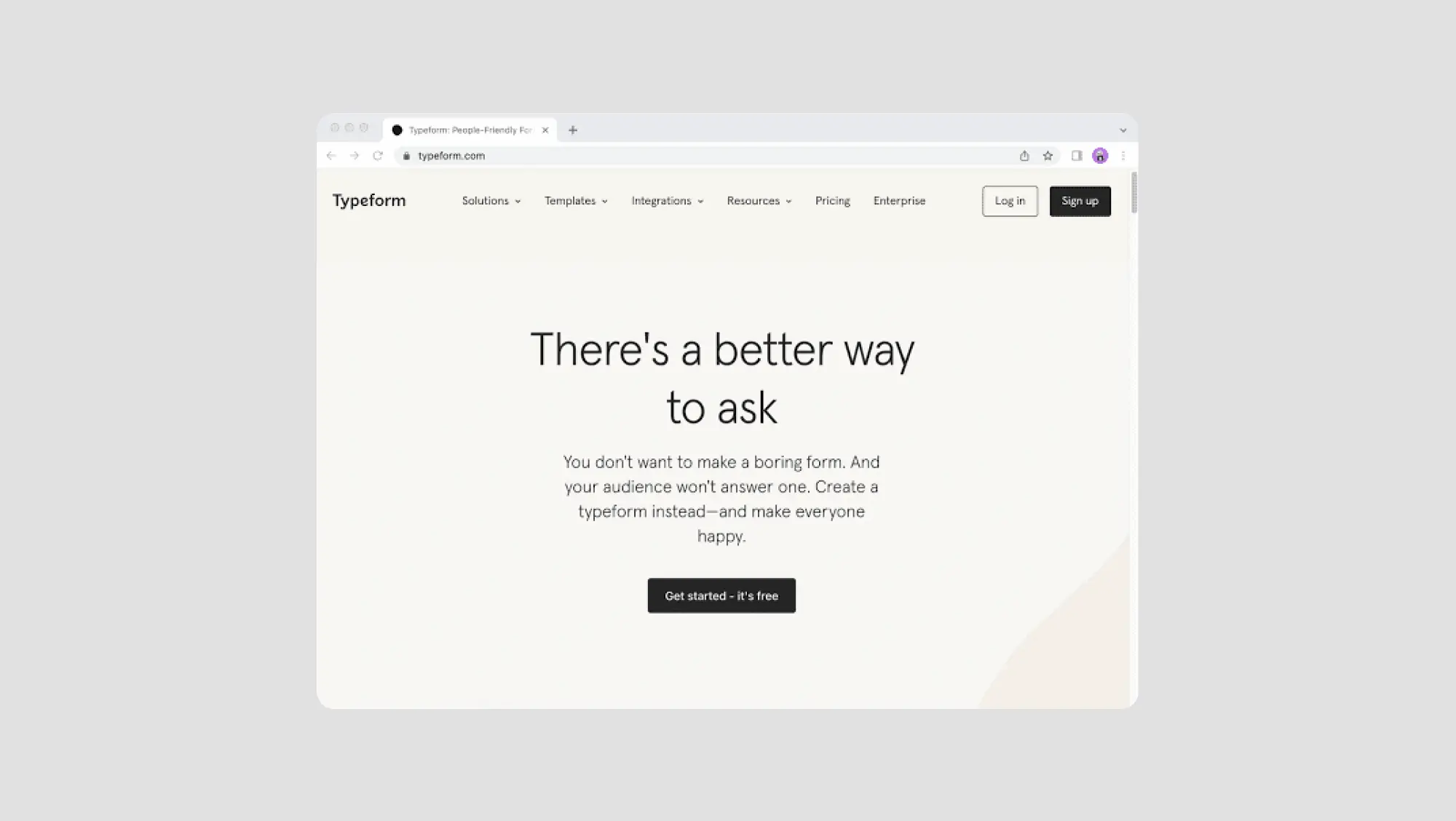 Data export options available.
Generates shareable reports for in-depth analysis.
Surveys are responsive on every screen.
Effortless follow up with thank you screens.
Integrates with tons of tools including MailChimp,Hubspot, Google sheets etc.
Price : Free one available and basic comes at $25/month.
3. Surveysparrow
Switching from boring surveys into pleasant conversations can be easy with surveysparrow. This free survey maker assists you in creating surveys that are extremely engaging.
Features:
Free online surveys from customer surveys to NPS surveys.
Make the surveys all about you by adding your brand logos and colors.
Customize your surveys using vibrant survey templates.
Performance appraisals with 360 degree feedback software.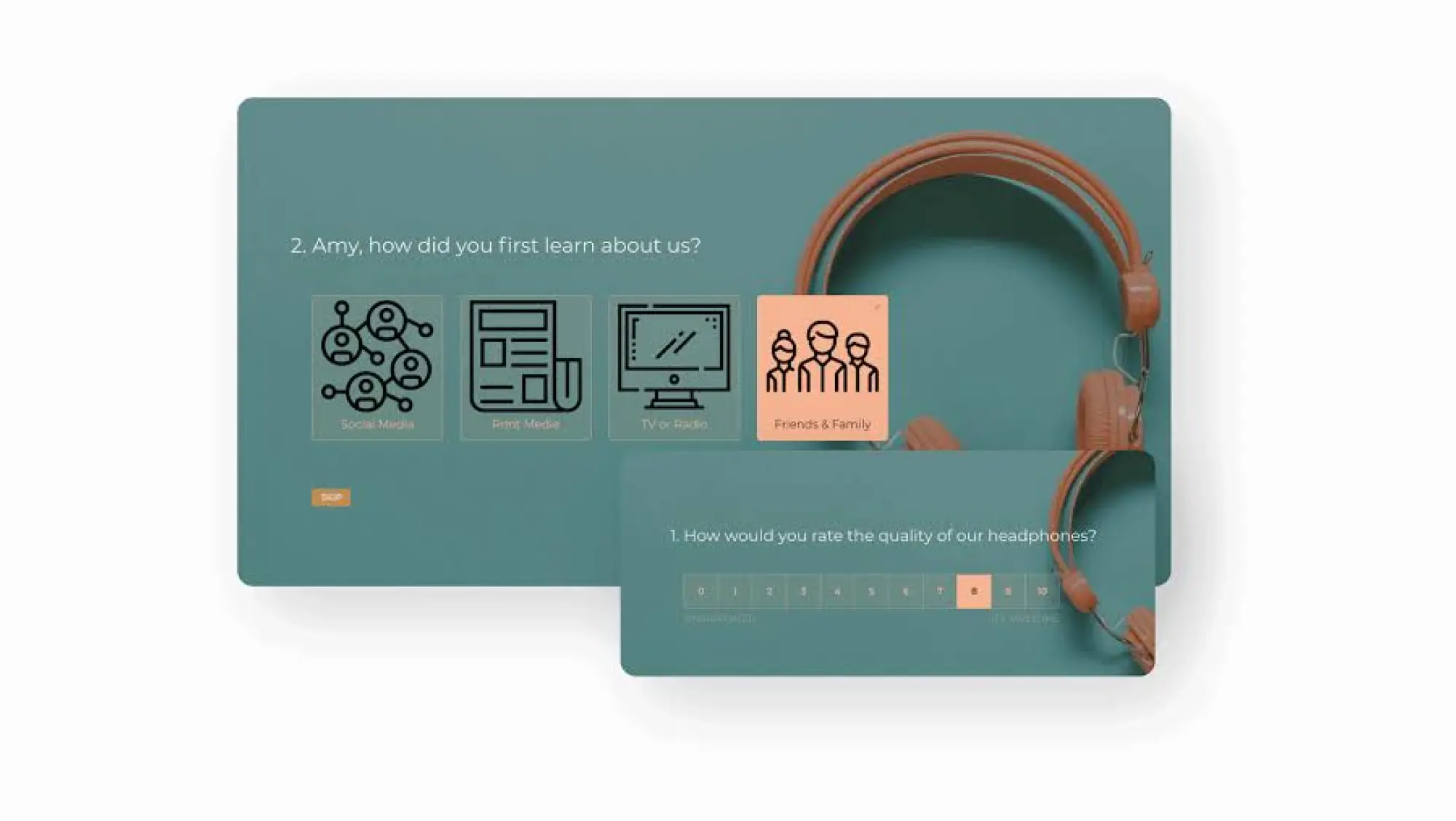 Helps to earn rich insights into the extracted data using dashboard.
Integrates with hundreds of applications.
Send recurring surveys and offline surveys.
Multiple survey share options.
Price : Completely free.
4. Google forms
Google Forms, is one of the simplest & the best free survey tools that helps users to create, edit and share surveys and forms online with ease.
Features :
Convenient Drag and drop feature.
Customized survey designs.
Industry-leading security measures to keep data safe.
Real-time response information and charts.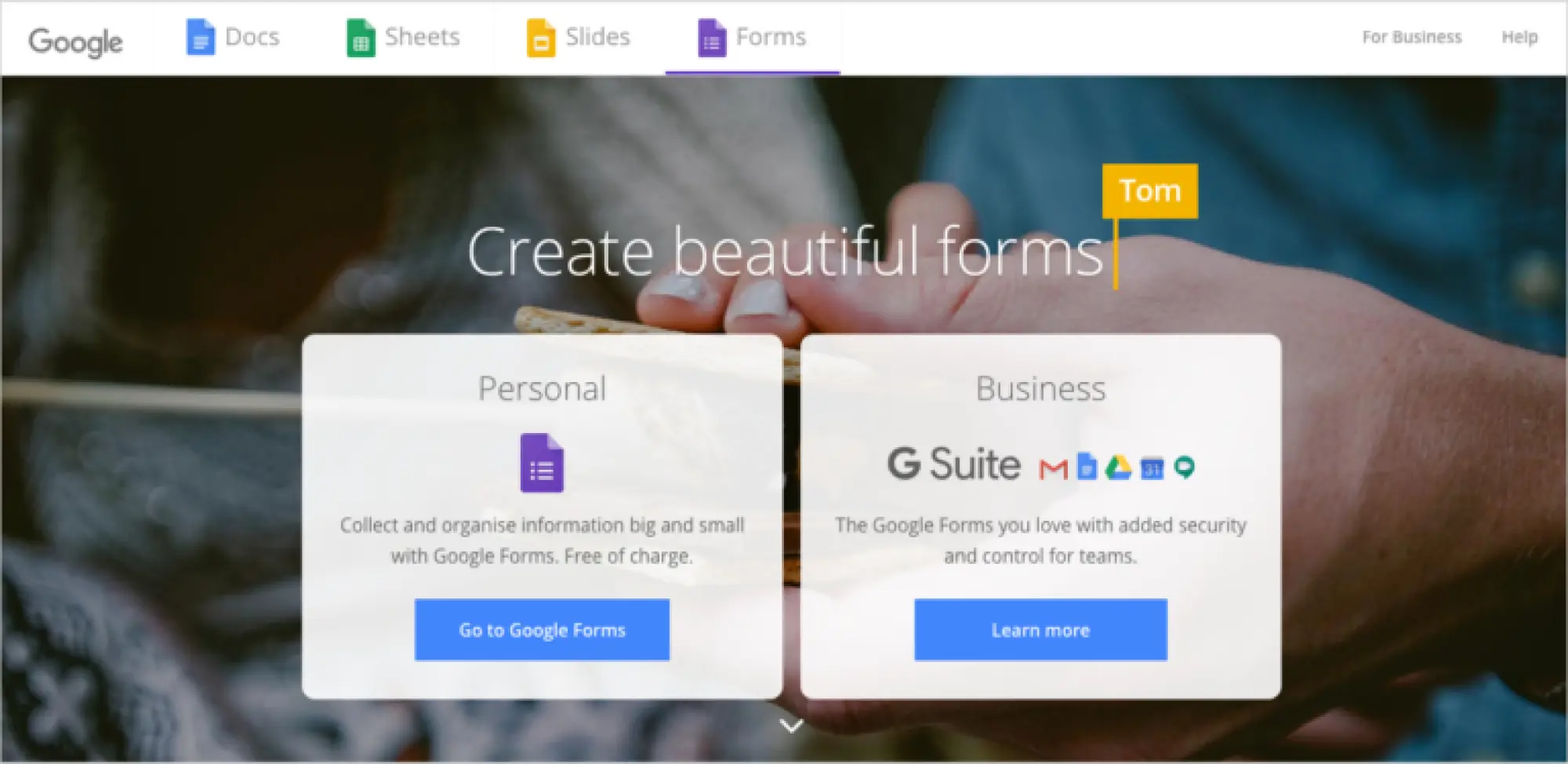 Export the survey results in Google Sheets directly.
Collected data can be synced with other Google products.
Excellent quiz maker especially for educational professionals.
Price : Completely free.
5. Zoho survey
Zoho Survey is an easy-to-use online survey software with customizable themes that helps to design surveys in minutes.
Features :
25+ survey question types available.
Highly user-friendly tool.
Mobile-responsive surveys.
Wide range of templates, with limited customizing options.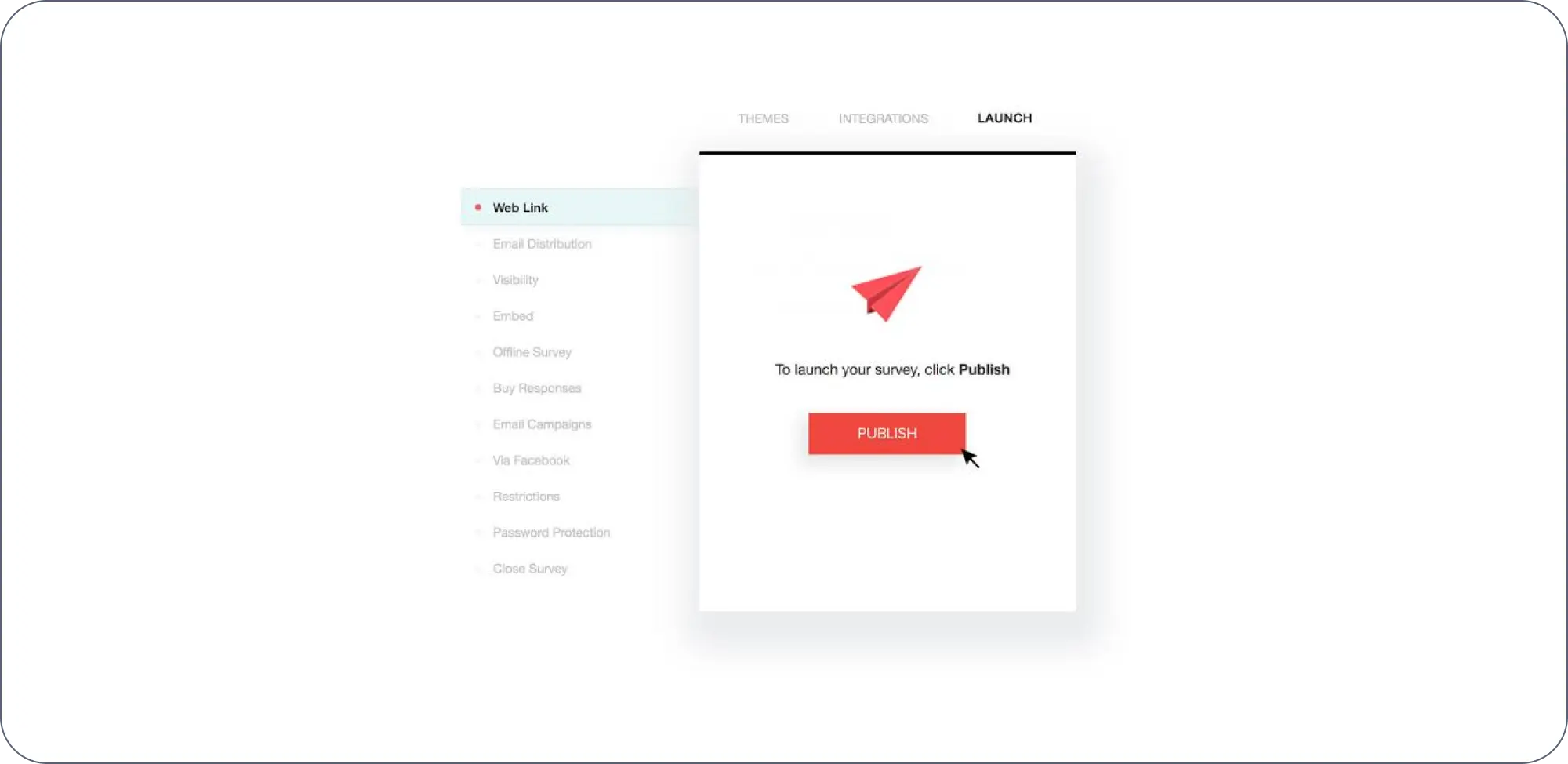 Survey data can be analyzed with Google Sheets.
Survey results can be viewed graphically in real-time.
Price : The pricing plan starts at $20 per month.
6. Qualtrics
Qualtrics is an online survey tool software that can handle everything from simple question surveys to complex research surveys.
Features :
Drag and drop feature.

No coding required.

50+ survey templates & 100+ question types available.

Analysis of responses using visualization reports.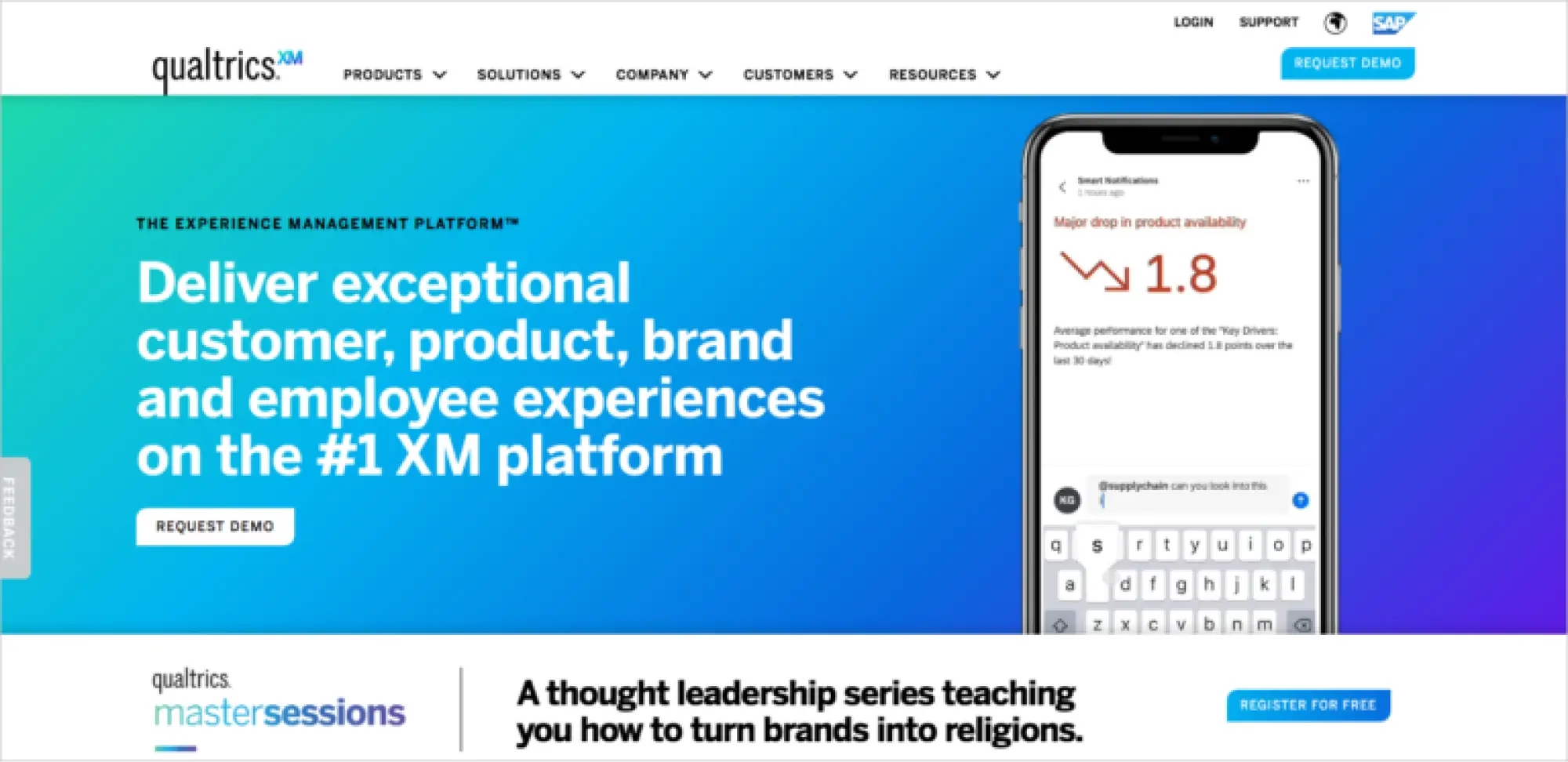 Mobile-responsive surveys.
Offline surveys are also available.
Custom online reports available.
Integrates with tools like Salesforce, Marketo, and Adobe etc.
Price : Free one available and basic at $1500 peryear.
7. SurveyMonkey
SurveyMonkey is another popular online survey software that has a simple interface that makes it effortless for beginners to create attractive surveys without coding.
Features:
Comprehensive survey templates.
Expert-written survey questions.
Survey questions can be randomized to reduce order bias.
Centralized dashboard to manage responses.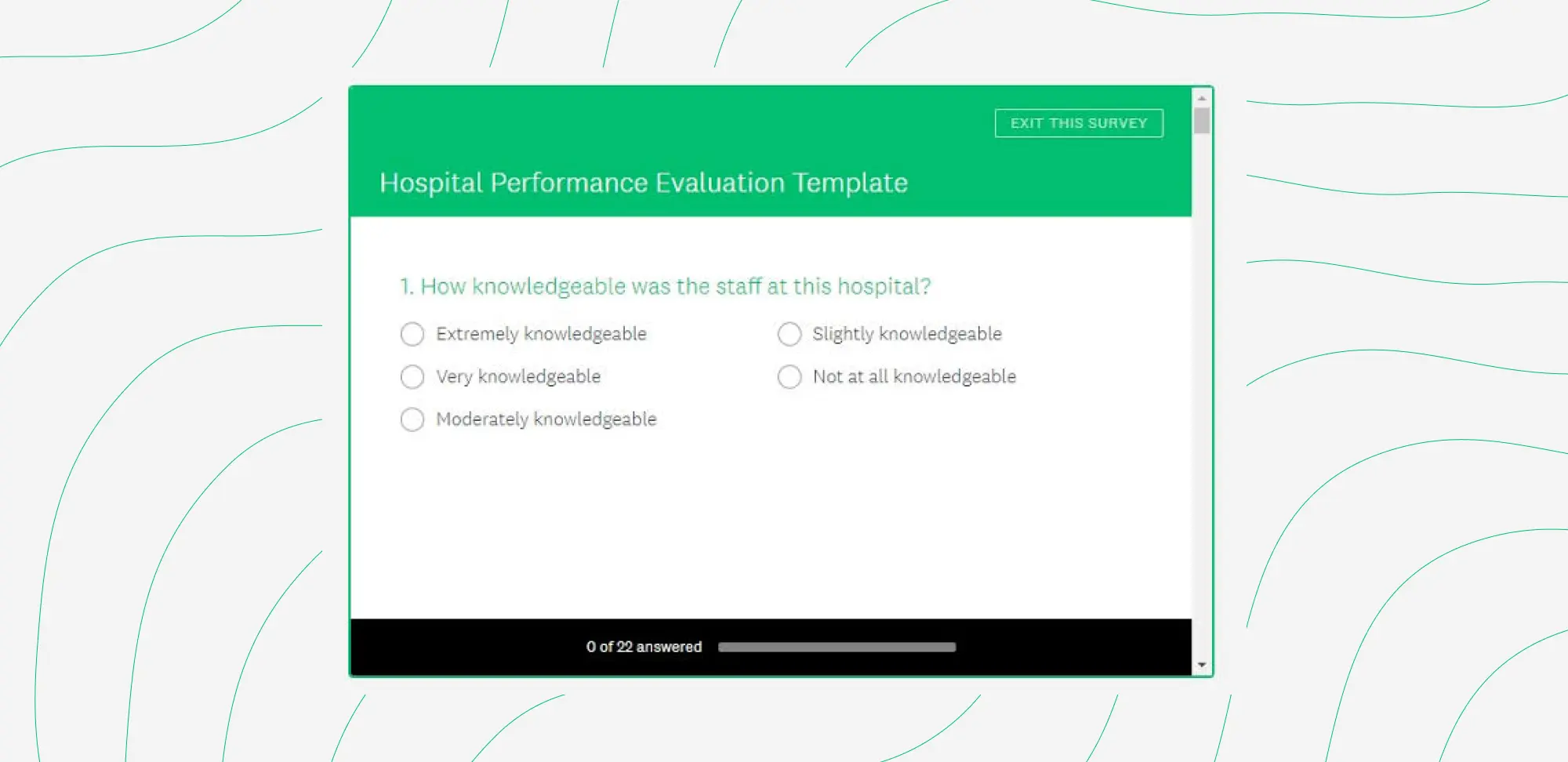 Survey results can be viewed in real-time.
Reporting feature offers in-depth data analysis.
Multi Sharing options to multiple platforms are available.
Integrates with Zapier, Slack, Microsoft Teams, and with other tools too.
Price : Free trial available. Basic plan starts from$25 per month.
8. Jotform
JotForm is a simple & best online survey tools used to create and manage customized surveys with more intuitiveness and ease of use.
Features :
Smooth drag-and-drop interface.

800+ survey templates available.

No coding is required.

Customization options with limited one.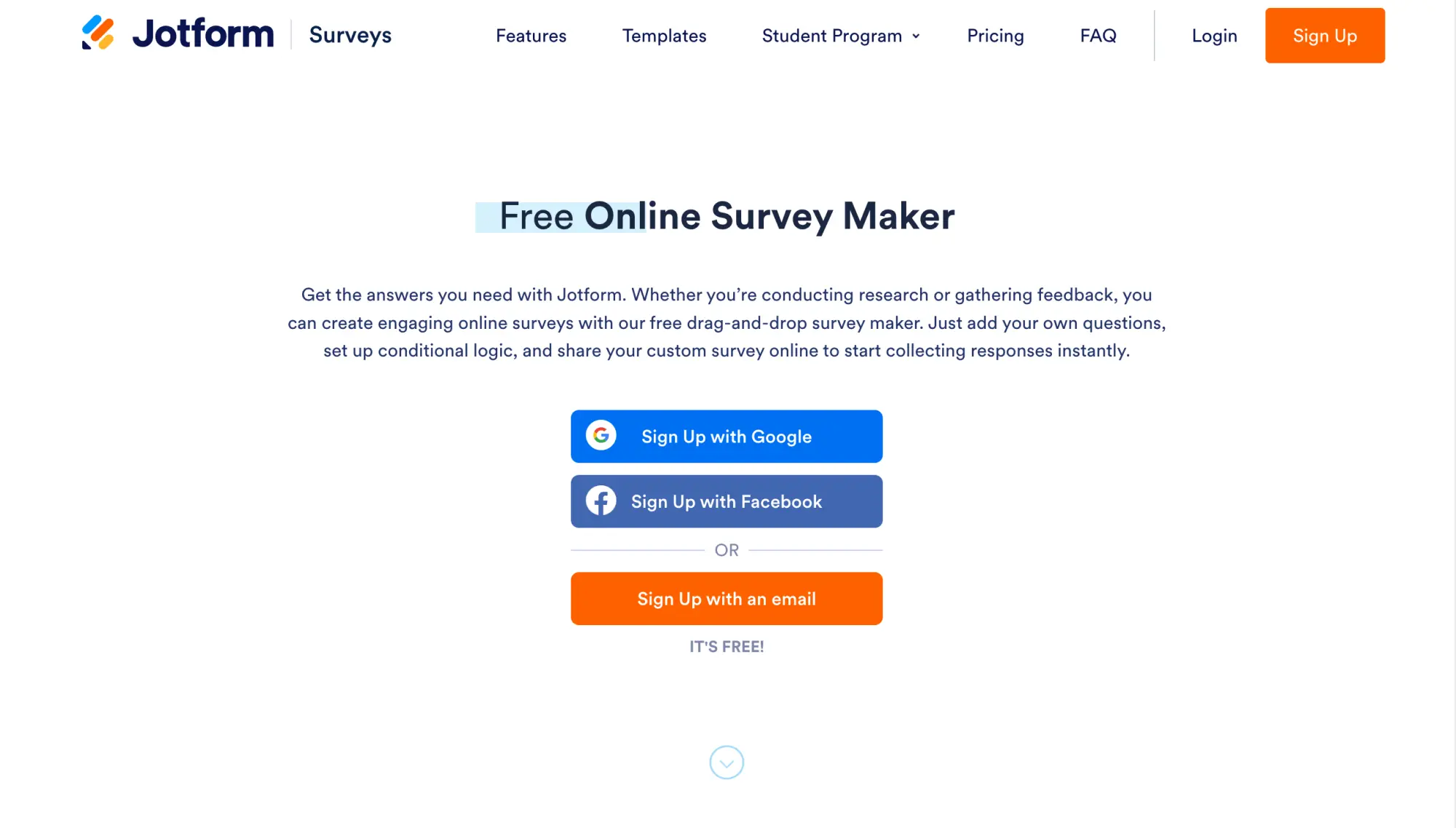 Conditional logic feature available.
Survey data can be collected online as well as offline.
Generate leads, distribute surveys and collects payments.
Easily embedded into websites.
Price : Free one available and basic starts at $15 per month.
9. Qualaroo
Qualaroo is the most versatile online survey software that helps in gathering real-time visitors insights to boost website performance.
Features :
Professionally designed survey templates available.

Customizable Qualaroo Nudges.

No-code implementation.

Collects feedback from users by using "Qualaroo Nudge" on your website.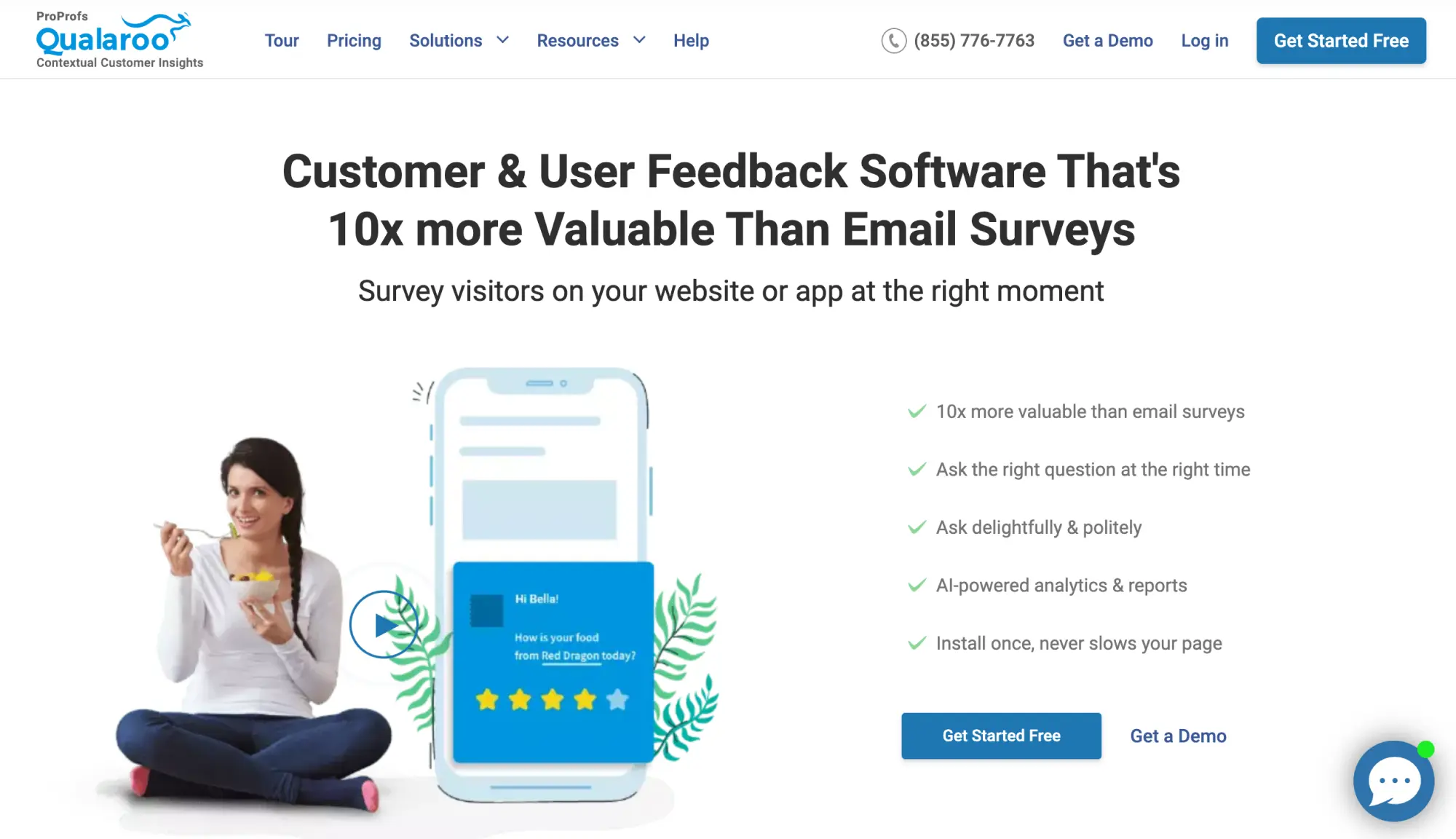 Qualaroo Nudge can be deployed on any device.
Actionable user-behavior Insights.
AI-powered analytics tool.
Easily harness visitors intent to drive conversions.
Integrates with tools like Slack, Google Analytics, Salesforce, Intercom, etc.
Price : Free trial available & basic plan starts from$80 per month.
10. Question pro
QuestionPro is crafted for large-scale businesses that want to create surveys and polls in minutes and analyse data in real time.
Features :
Multiple survey templates & 30+ different question types.

Customized surveys and polls.

Data analysis is simple.

Real-time team collaboration.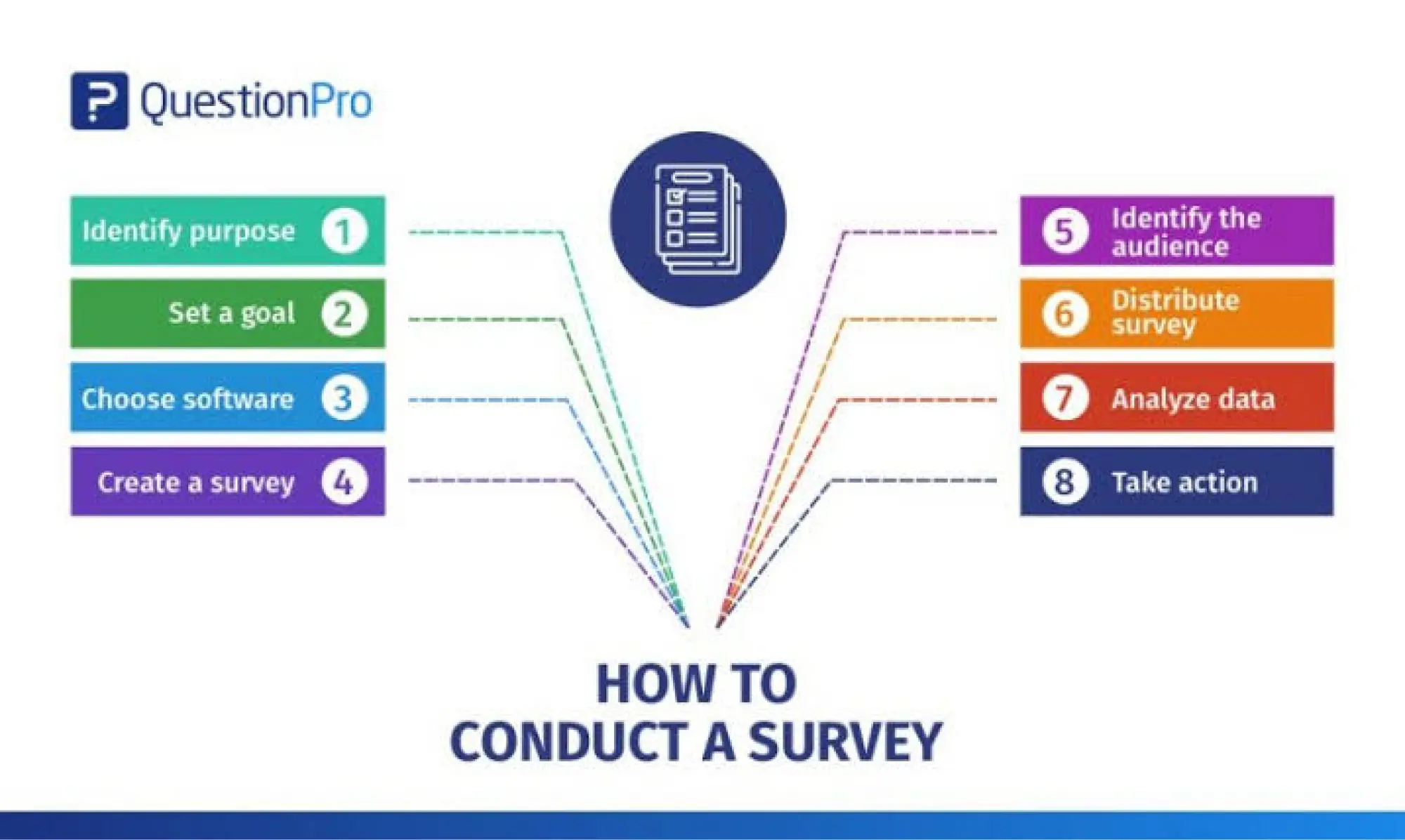 Email survey reminders to increase survey response rate
Customizable thank you page after every surveys.
Integrates with Hubspot, Zapier, Salesforce, and many other tools.
Price : Starts at $15 per month.
11. Getfeedback
GetFeedback is an easy-to-use online survey tool that helps collect customer feedback so that you can take the necessary action to improve your customer's experience.
Features :
Inbuilt survey templates.

Intuitive analytics dashboard with actionable Insights.

No coding required.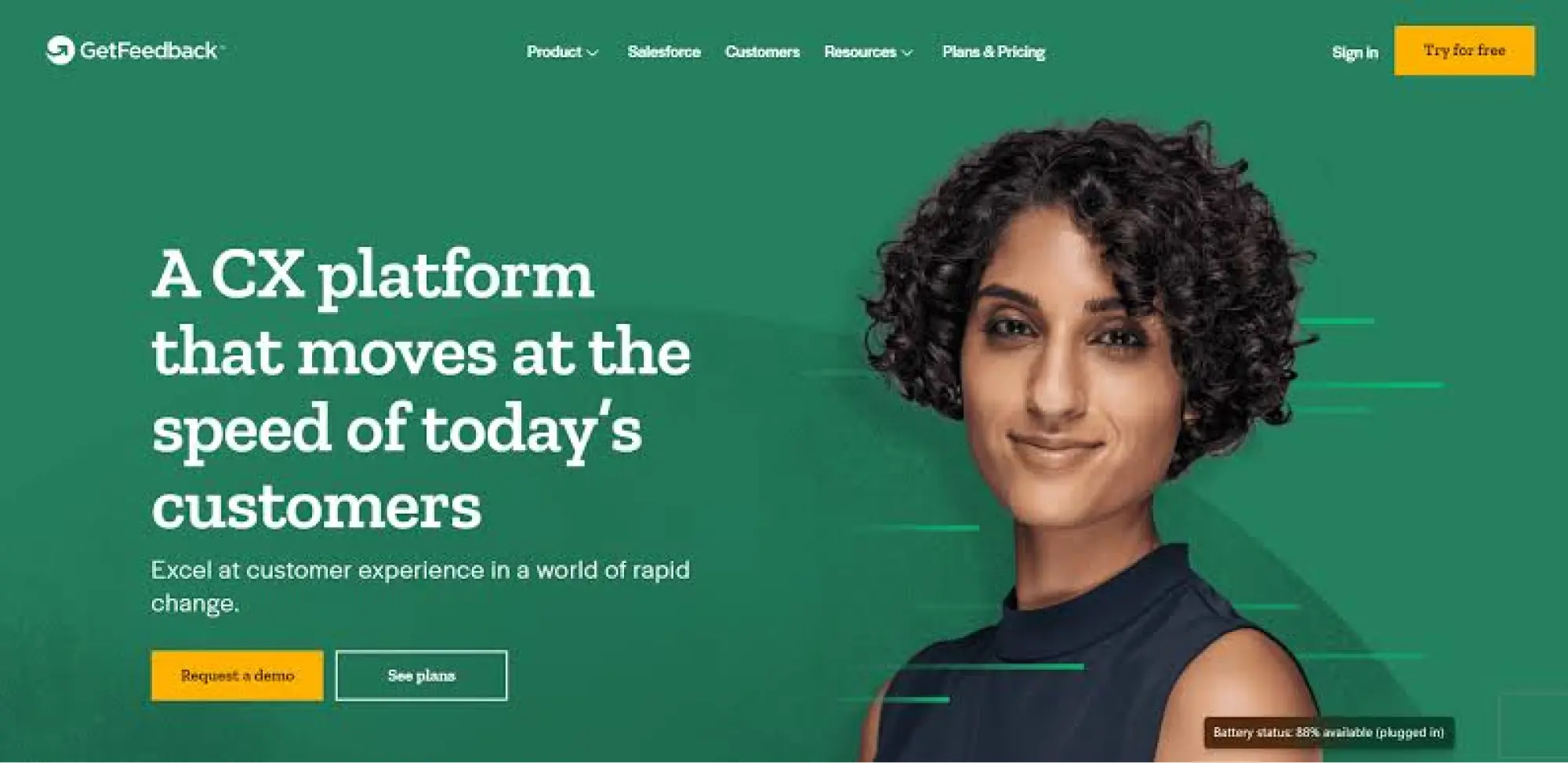 Mobile-responsive surveys.
Multiple channel share option available.
Responds to feedbacks quickly.
Price : Free trial available. Basic starts at $10 per month.
12. Woorise
Woorise is an online survey maker software that helps companies create beautiful surveys with customized branding.
Features :
Pre-built survey templates are more to use.
Drag and drop interface.
Customised surveys to match your needs.
No coding skills required.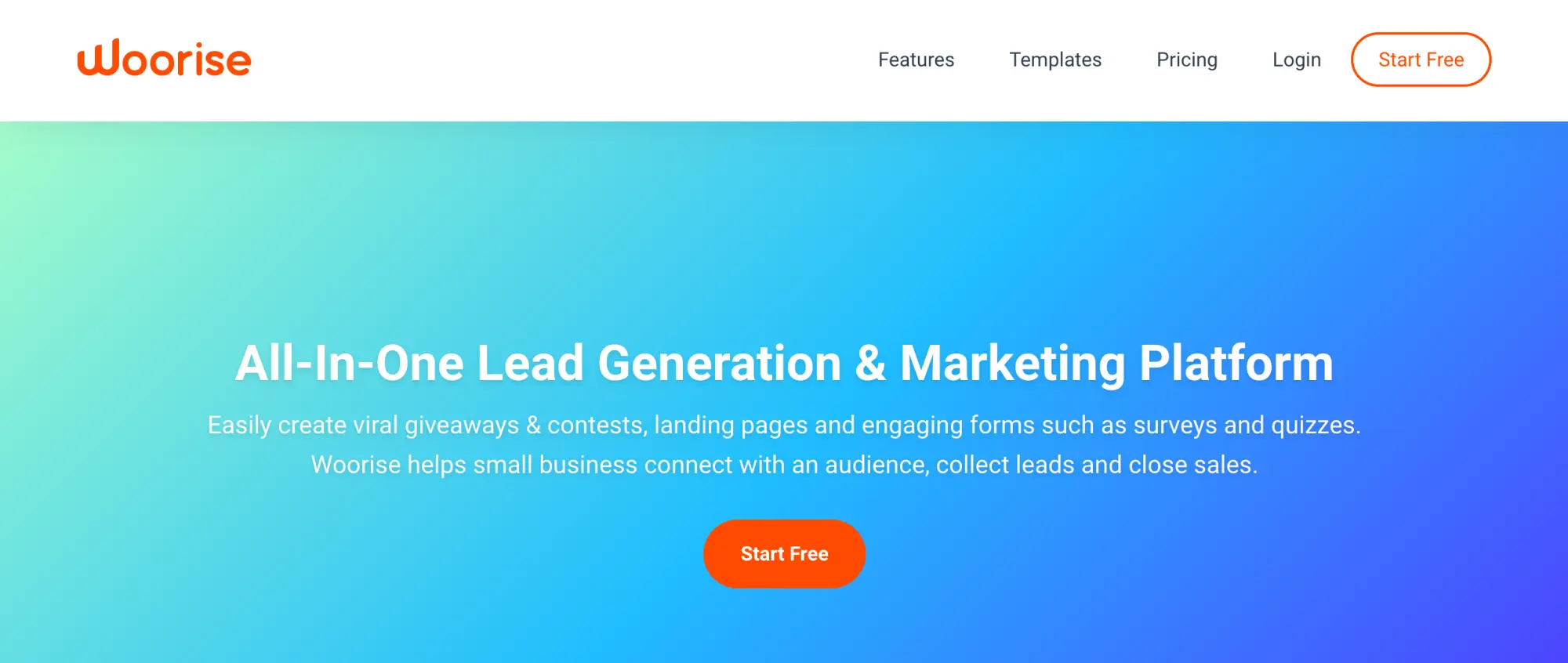 Survey responsive on all devices and platforms.
Responses can be viewed in real-time and graphically.
Easy analysis on collected responses.
Supports multilingual and multi sharing options.
Price : Completely free.
13. Surveyplanet
SurveyPlanet is a free online survey software tool that helps create free online surveys with unlimited questions exclusively for growing enterprises.
Features:
100+ Pre-written question templates.
Pre-made custom themes for surveys.
Survey URL can be customized too.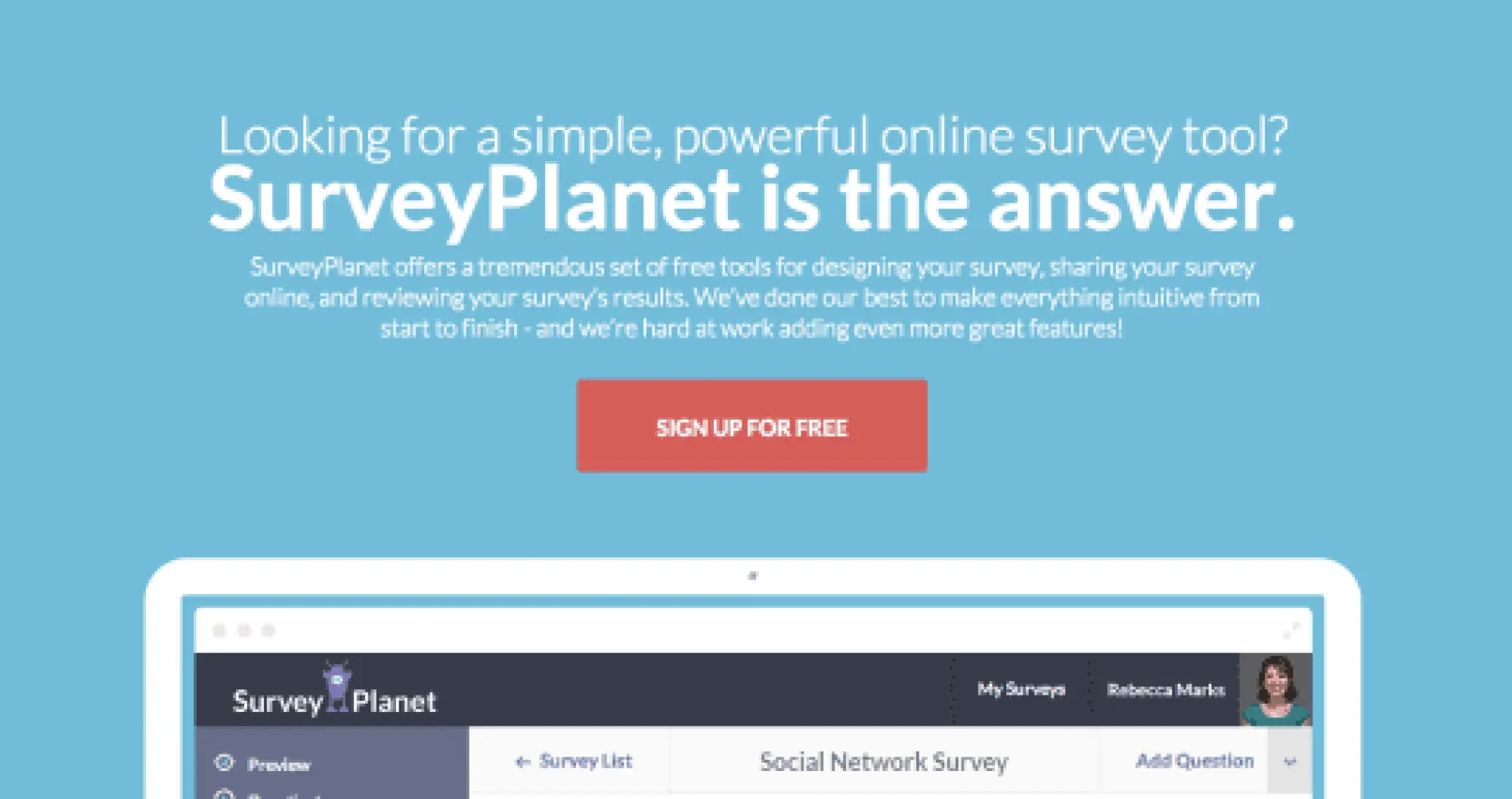 Previewing a live copy of survey is possible.
Branching feature available to help control survey questions.
Survey responsive on all devices.
Multilingual support with multiple sharings.
Price : Completely free.
14. SoGoSurvey
SoGoSurvey is one of the best secure online survey builder software that offers security thereby assisting businesses to make informed decisions.
Features :
Inbuilt readymade templates.
Anonymous surveys can be done.
More transparency in less time.
Data management to secure data.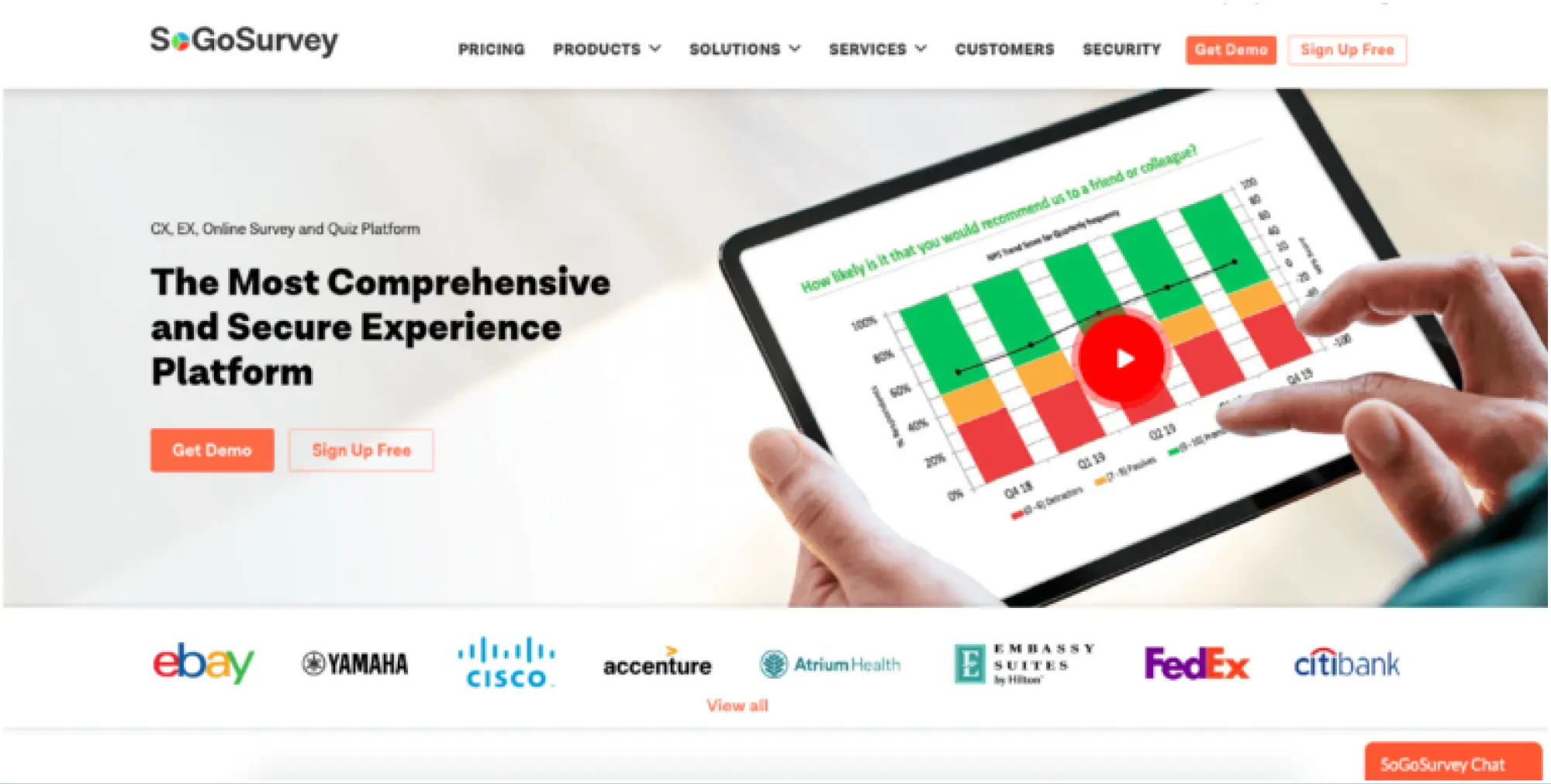 Cross platform collaborations.
Integrates with 100s of tools.
Multi channel survey distribution.
Price : Basic plan starts from $25/month.
15. Quill forms
Quill Forms is used to build forms, surveys, quizzes and cost estimation forms easily thereby boosting the conversion rate.
Features :
Drag and drop question types.
Humanized conversations.
Personalized themes.
Hidden fields and custom URL parameters.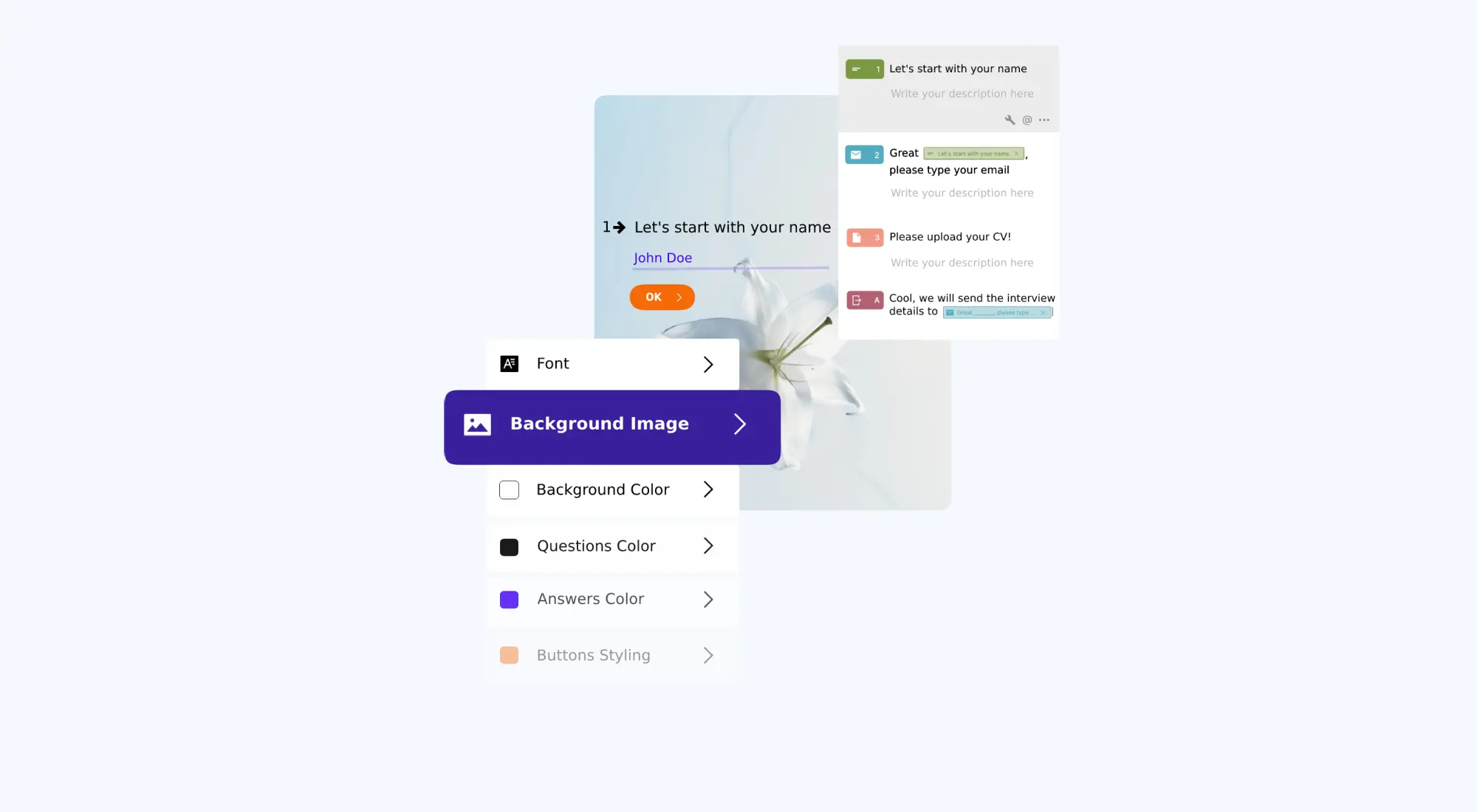 Customization of forms with a single click.
Your data is secure and stored in your own server.
iframe embedding, allows sharing on any website.
Calculator for quizzes and cost estimations.
Integrates with MailChimp,Google sheets,Slack and many more.
WRAPPING UP
Online surveys are changing rapidly and taking new form everyday. This makes the need to design online survey forms with high quality and customer friendly ones thereby getting the right audience.
Trying to be unique is challenging as all of the online survey softwares and marketers have started to look for that. To make comfortable with your customer you need to develop something new that hasn't come yet. Create something innovative that is meant for tomorrow.
All these online survey tools may not fit you, Choose what fits you and your business. Happy Surveying !