Achieving successful SEO is essentially about strategically incorporating keywords. To ensure your hard work in crafting valuable content pays off, it's crucial to integrate your seed keywords and semantic keywords, also known as LSI keywords, seamlessly into your articles.
This integration signals to Google that you possess superior topical authority compared to other content creators.
Integrating keywords and building topical authority stems from quality keyword research. You must have a solid list of related keywords with decent search volumes.
Worry not. You don't have to rely on paid keyword tools for this.
Initiating your keyword research journey doesn't require a hefty budget. There's a variety of high-quality free and freemium keyword research tools accessible in the market.
In this article, I'll walk you through how you can leverage these free tools for effective keyword research.
You will get pretty much every metric of keyword research:
Semantic keywords
Long-tail keywords
Search volumes
Difficulty of the keyword
Trendspotting
User intent in the form of user queries
Competitor analysis
And even content ideations and outlines from AI tools listed here
FREE SEO Keyword Research Tools
Google Suite of Tools
ahrefs Free Keyword Tool
Ubersuggest
Answer The Public
AlsoAsked
Exploding Topics
Keyword.io
KeywordsPeopleUse
Free Keyword Tool by WordStream
SEOmator
Google Suite of Tools
The data powerhouse Google has a suite of tools for keyword research. All of these tools are completely free of cost.
The only limitation is your ability to spend time with this suite of tools and explore to the maximum.
The Google Tools for Keyword Research:
Google Trends:

Google Trends

allows you to capture trending topics worldwide on the go. You can analyze the past and present trends of a particular keyword in a specific region.
Google Keyword Planner:

Google Keyword Planner

is a gold mine for keyword research and it's my go-to keyword research tool. Though it's designed for PPC campaigns, we can use

Keyword Planner for SEO strategy

as well. This tool lets you find LSI keywords, and long-tail keywords along with search volume and current trend indicator.
Alphabet Soup: Alphabet Soup is one of the features of Google and it is also called Google Auto Suggest. With Alphabet Soup, you can identify variations and synonyms of your seed keywords and user intent.
**Google Bard:

Google Bard

AI is an all-rounder for keyword research. You can seamlessly gather LSI keywords, potential novel keywords, long-tail keywords, and customer pain points with prompts.
You can check my prompt and Bard's response here: https://g.co/bard/share/5ed90f2adccc
Once you have done with your keyword research in Bard, be sure to check the volumes and relevancy in Google Keyword Planner.
People Also Ask Section: This is one of the sections of Google SERP that gives a set of similar questions related to your queried keyword.
Related Searches Section: It is also one of the sections of Google SERP that gives a set of additional keywords based on your interactions with it. This is one of the best ways to expand your keyword list and the depth of your article.
Site Colon Method: Site Colon is an advanced search method that can be used to spy on your competitor's website to identify their targeted keywords. You can use

"Search the current site"

extension for this.
Sitemap Exploration: Sitemap exploration is a technical way of spying on your competitor to identify the topical authority and potential landing pages. Just append "/sitemap.xml" at the end of any website's homepage URL to see their sitemap.
Google Alerts: You can stay updated by enabling

Google Alerts

to receive notifications whenever new content matching specified keywords is indexed by Google.
ahrefs Free Keyword Tool
ahrefs is one of the most renowned all-in-one SEO paid toolsets widely used by digital marketers, SEO professionals, and website owners.
What is less known is that ahref has a free keyword generator tool that can be used to analyze Google, Bing, YouTube, and Amazon audiences.
You will get hundreds of keyword ideas for your queried keyword along with keyword difficulty and volume. The result includes both phrase match and question match in a separate tab.
For additional SEO metrics, you need a paid plan.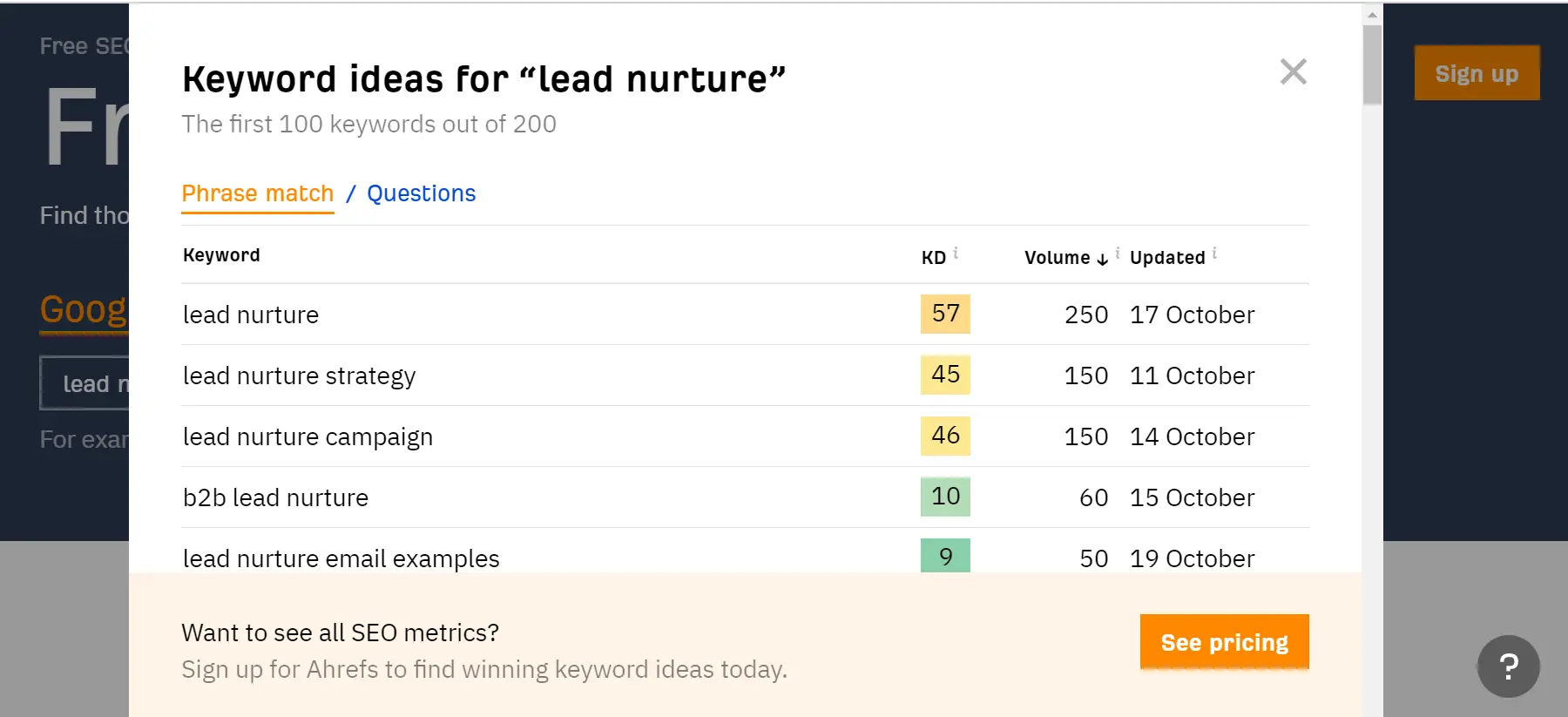 Ubersuggest
Ubersuggest is another freemium keyword research tool by Neil Patel. This tool can be used to find new seed keywords as well as analyze your competitors.
You can see the search volume, cost per click (CPC), SEO and paid difficulty of your queried keyword.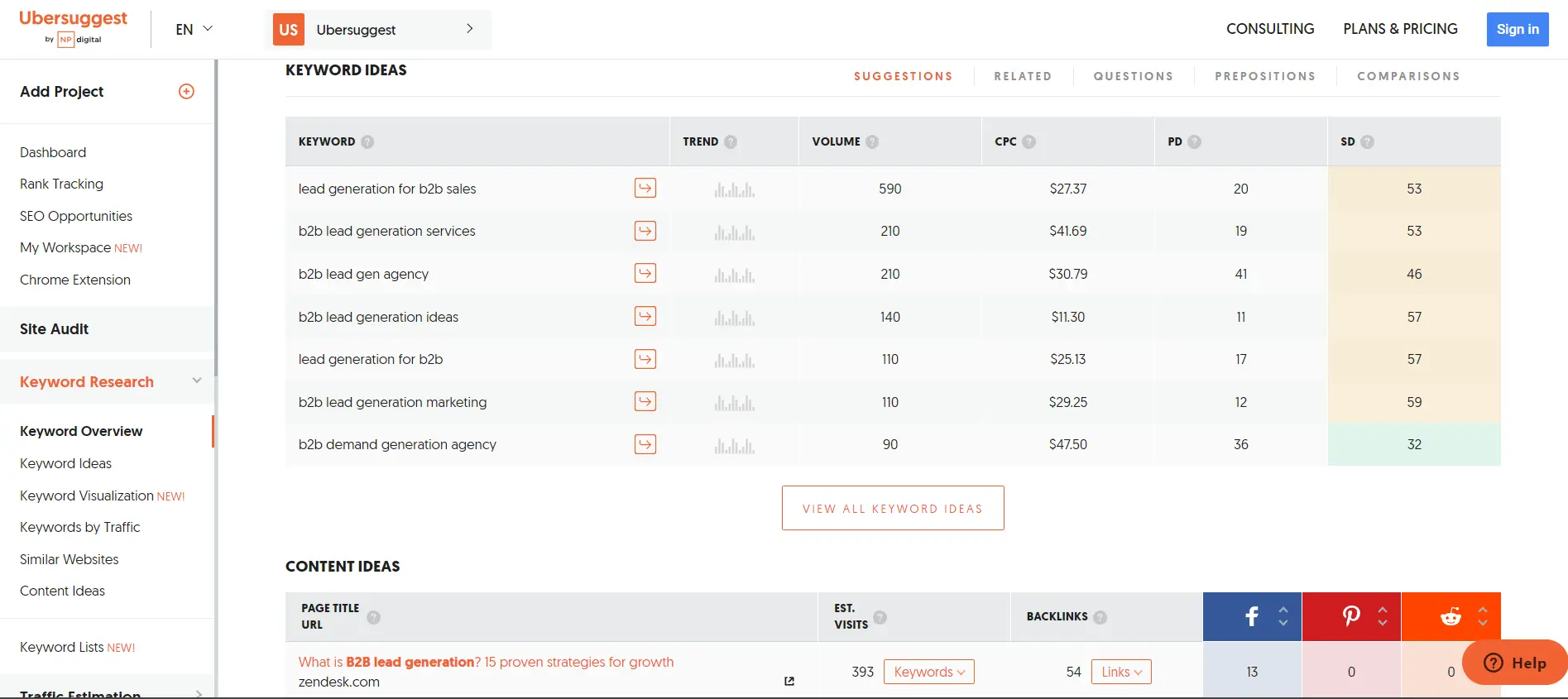 The limitation of the tool is that it will only show seven keyword ideas and content ideas for unregistered users. Also, as an unregistered user, you will have only one search for free. There are three daily free searches for a registered user.
Answer The Public
Answer The Public is a search listening tool created by Neil Patel. It can find and present useful phrases and questions people are asking about your keyword in a particular region.
It is indispensable to think from the user's perspective to construct a winning content strategy. Answer The Public makes this task easier than ever before.
You can create well-equipped helpful content with the insights from this keyword research tool.
The highlight of this tool is its user interface. Yes, the ease of use comes from its visualization of showing results. It is kind of a mind map that gives eagle eye view of user questions.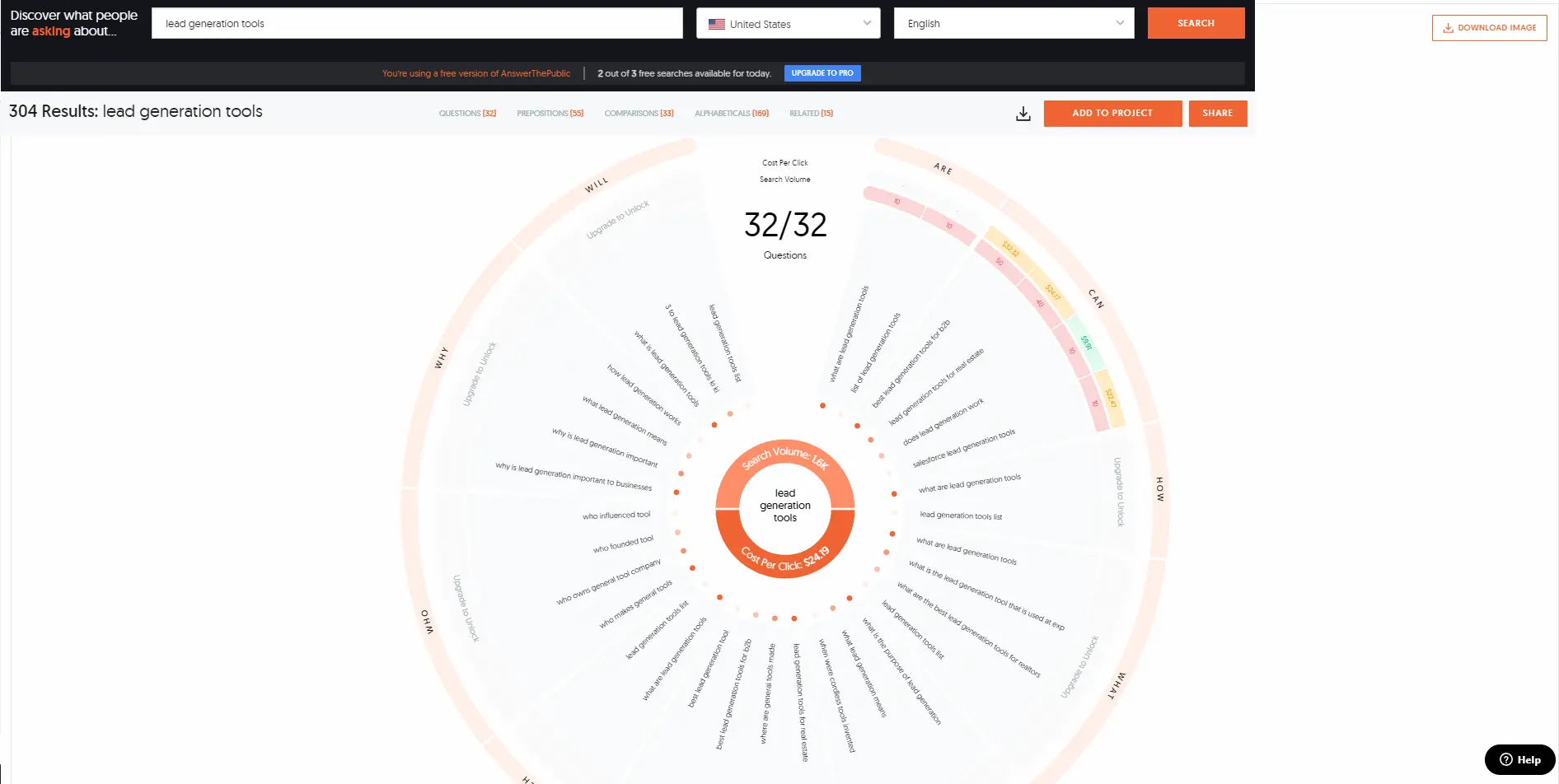 The other thing that sets apart this tool from its competitors is that it shows the search volume and cost per click of the queried keyword.
To talk about the cost, it is a freemium tool that offers one daily free search for unregistered accounts and three daily free searches for registered accounts.
To either export the data or download the visualization, you must be a registered user.
AlsoAsked
AlsoAsked is another People Also Ask (PAA) clustering tool like Answer The Public. It is one of the best tools for content ideation and building the semantic strength of an article.
Similar to Answer The Public, it makes the task of thinking from the user's perspective easy with its way of visualizing results. You can try changing the location for optimal keyword research. Keep in mind that, AlsoAsked tool may take up to 1 minute to build the visualization of your results.
Unlike its competitors, this tool allows even unregistered users to download the results. Also, the visualized result of this tool is quite easy to comprehend than its competitors.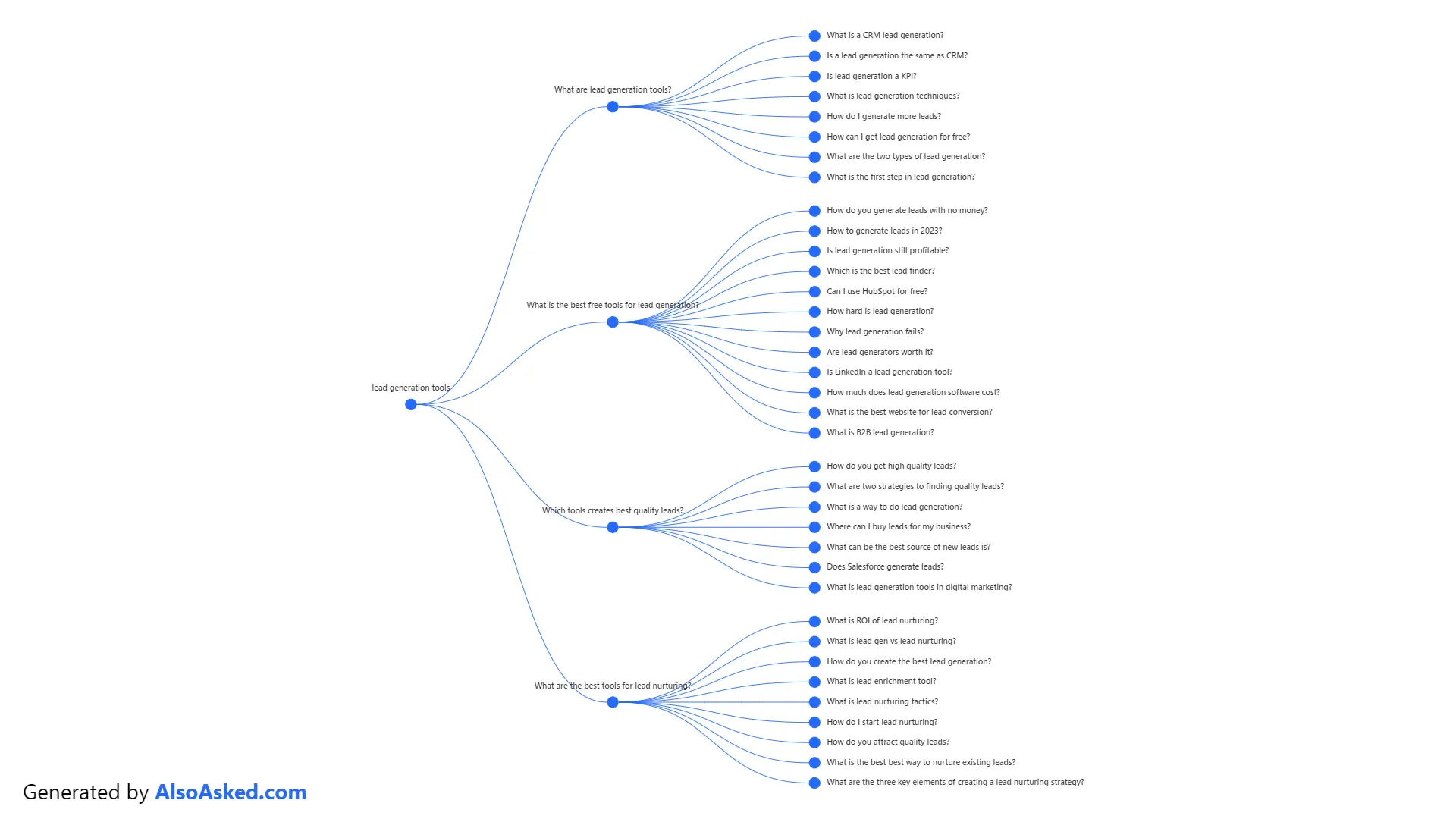 It is also a freemium tool that offers three free searches for both registered and unregistered users.
Exploding Topics
Exploding Topics, an online trend discovery tool developed by the renowned SEO expert Brian Dean, actively identifies and updates emerging trends and topics on a daily basis.
This tool completely relies on its own algorithm that analyzes millions of consumer behavior signals across many platforms and finds the trend.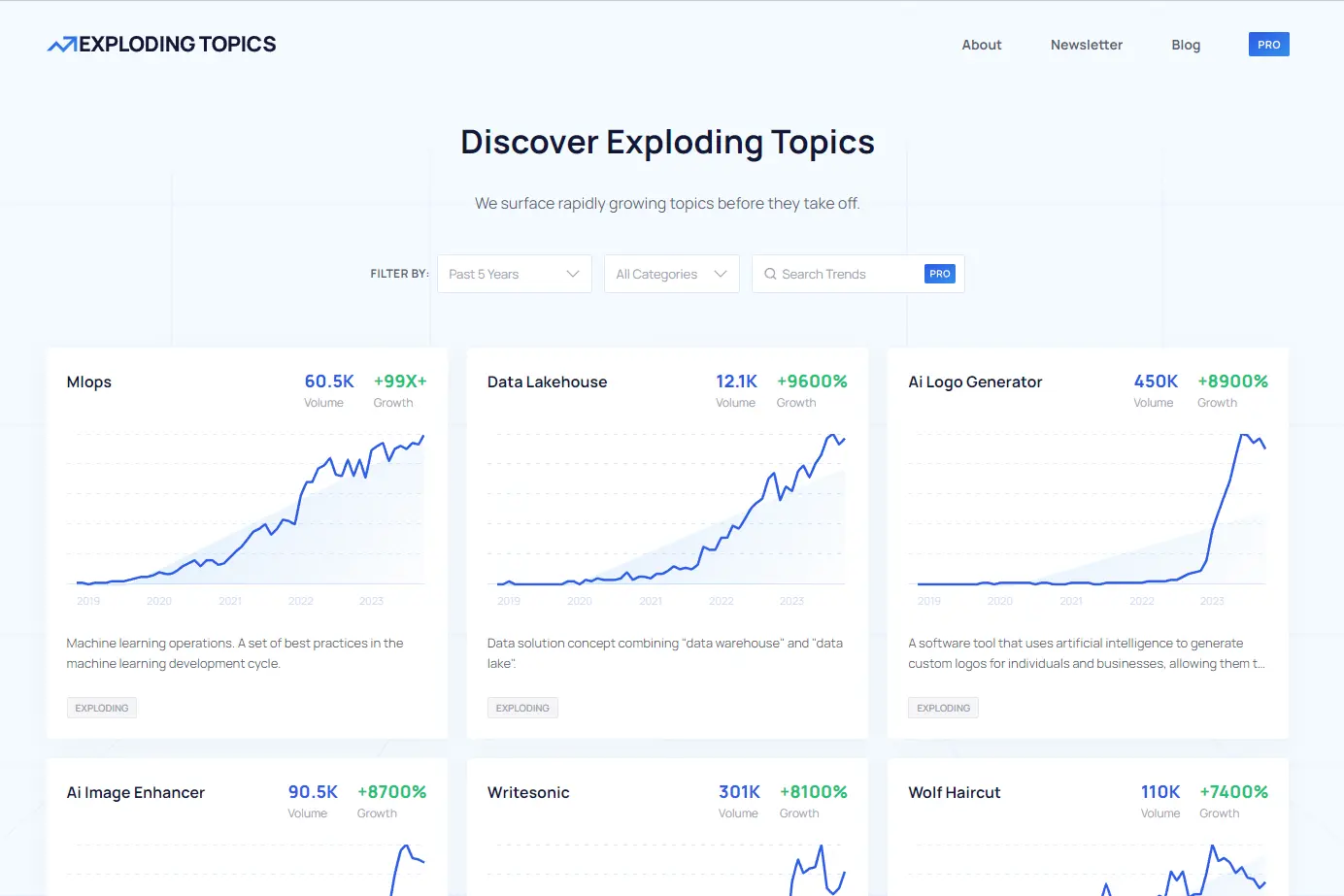 You can either search your keyword in the given search box or you can use the category filter to see the trending keywords.
Exploding Topics is a completely free tool without any limitations for searches. However, companies can opt-in for their pro plan to discover trending topics twelve months in advance. If you don't have the budget for the pro plan, signing in for their newsletter is one of the best ways to spot the trend in your niche.
Keyword.io
Keyword.io is a freemium keyword research tool created by Robert Jung. It is marketed as the best long-tail keyword finder and as per my experience it does the job well.
The user-friendliness of this tool is something I genuinely appreciate. After entering your seed keyword or phrase, the tool promptly generates over a hundred keyword suggestions. From this extensive list, you can effortlessly choose a specific set of keywords by simply selecting them.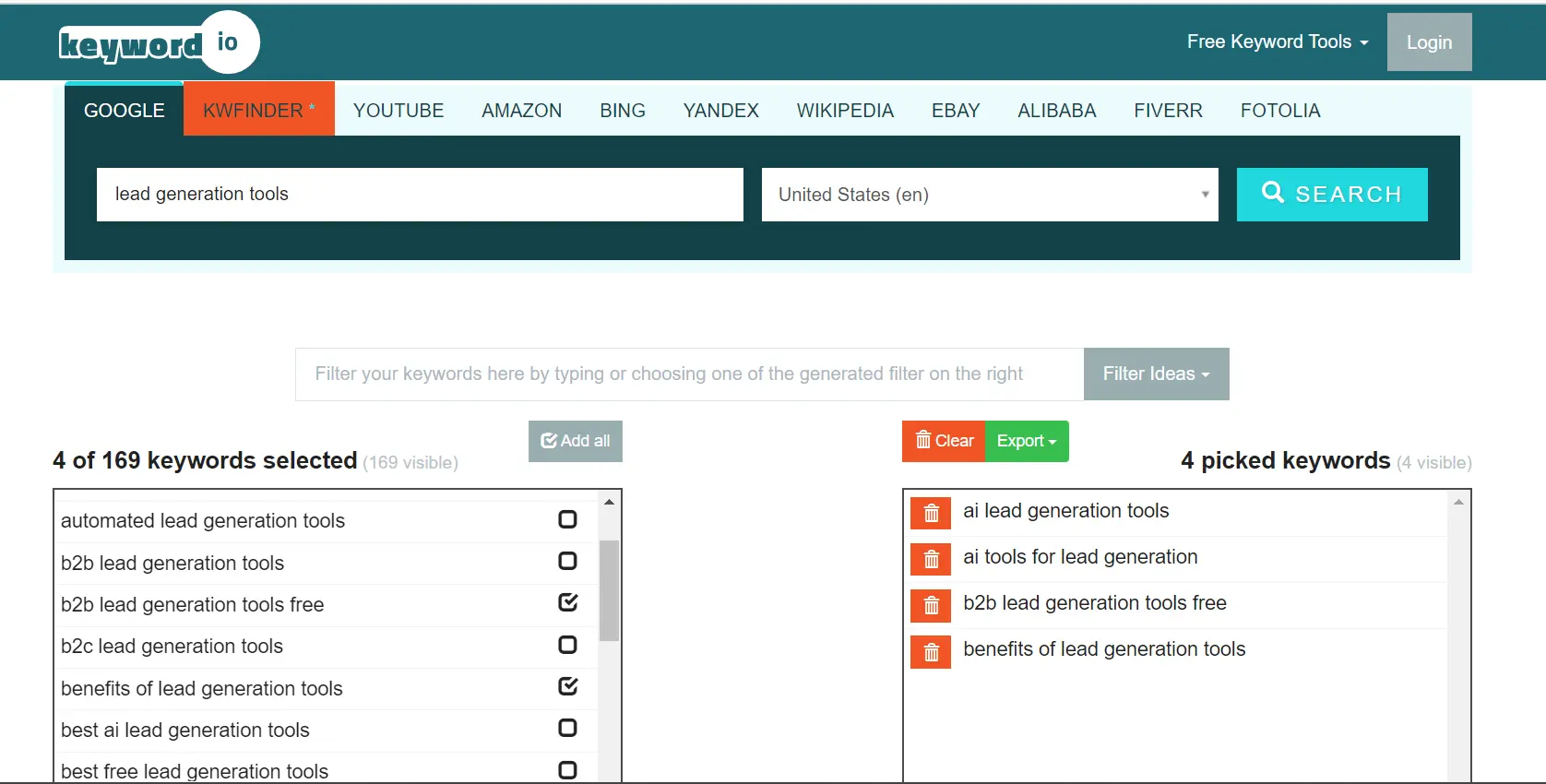 This website allows you to find long-tail keywords from Google, YouTube, Amazon, Bing, Yandex, Wikipedia, eBay, Alibaba, and Fiverr.
Like a few of the tools mentioned here, you can even use this tool without creating an account. However, creating an account will allow you to download the keyword list and set your default language and country.
It's crucial to highlight that the website explicitly mentions that certain free tools may be subject to removal at the discretion of the tool's creator.
KeywordsPeopleUse
KeywordsPeopleUse is an all-in-one keyword research tool that aggregates long-tail user queries from Google, Reddit, and Quora.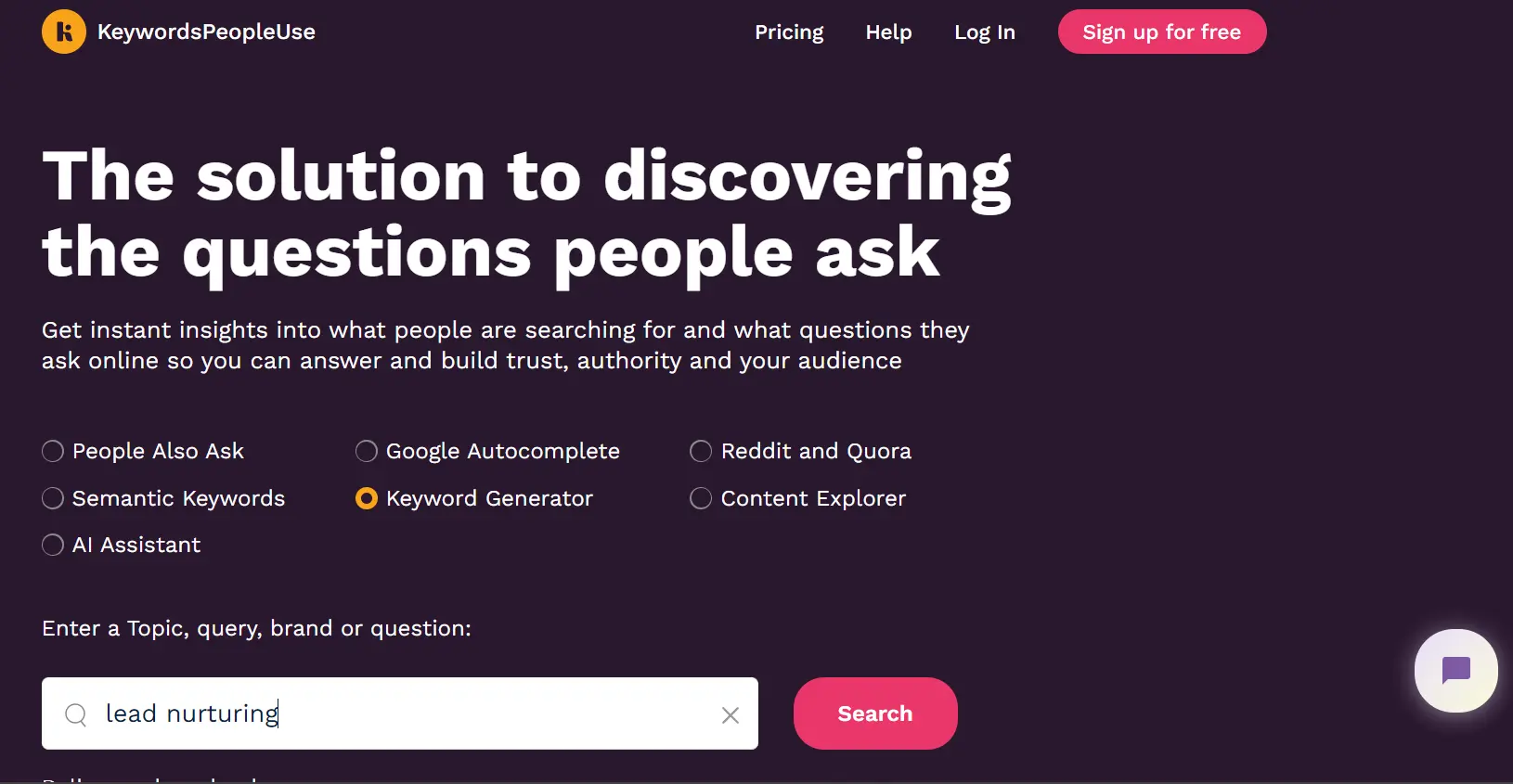 It is like a combination of Answer The Public and AlsoAsked tools. You can get both Google's Auto Suggestions and People Also Ask (PAA) data here in this tool.
For those without a registered account, three free searches are available, while registered users enjoy the benefit of 10 free searches.
Free Keyword Tool by WordStream
Free keyword tool by WordStream is powered by Google Ads API that suggests new keywords along with monthly search volume, page bids, and competition.
You can either type in your seed keyword or enter your website URL to get keyword suggestions.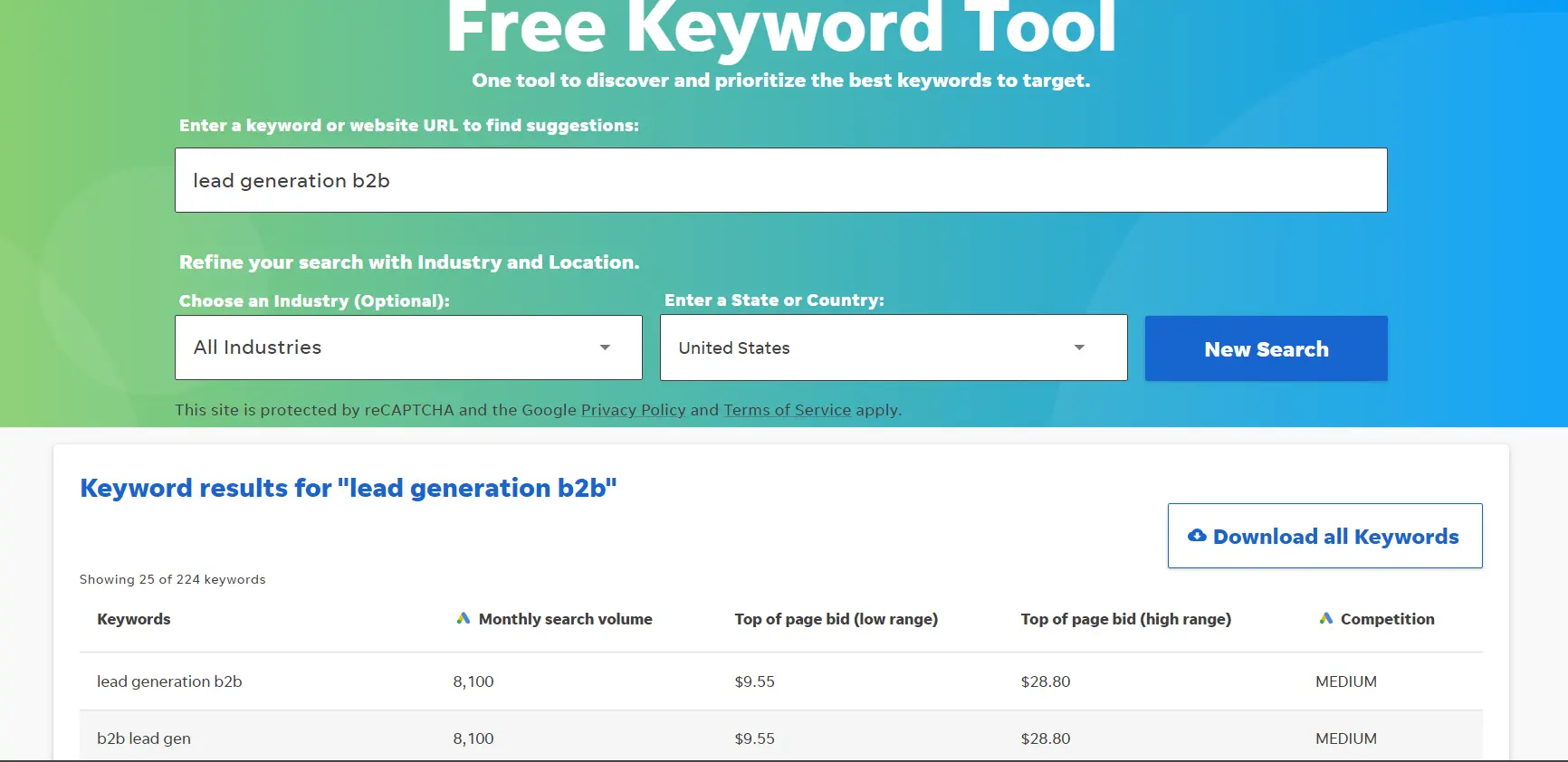 This tool is a perfect alternative if you feel the user interface of Google Keyword Planner is congested.
There is no sign-up needed to access this tool unless you want to download the result. Likewise, there is no limitation for querying in this tool.
SEOmator
SEOmator is another freemium tool on this list that identifies related keywords and their cost per click (CPC), volume, and difficulty.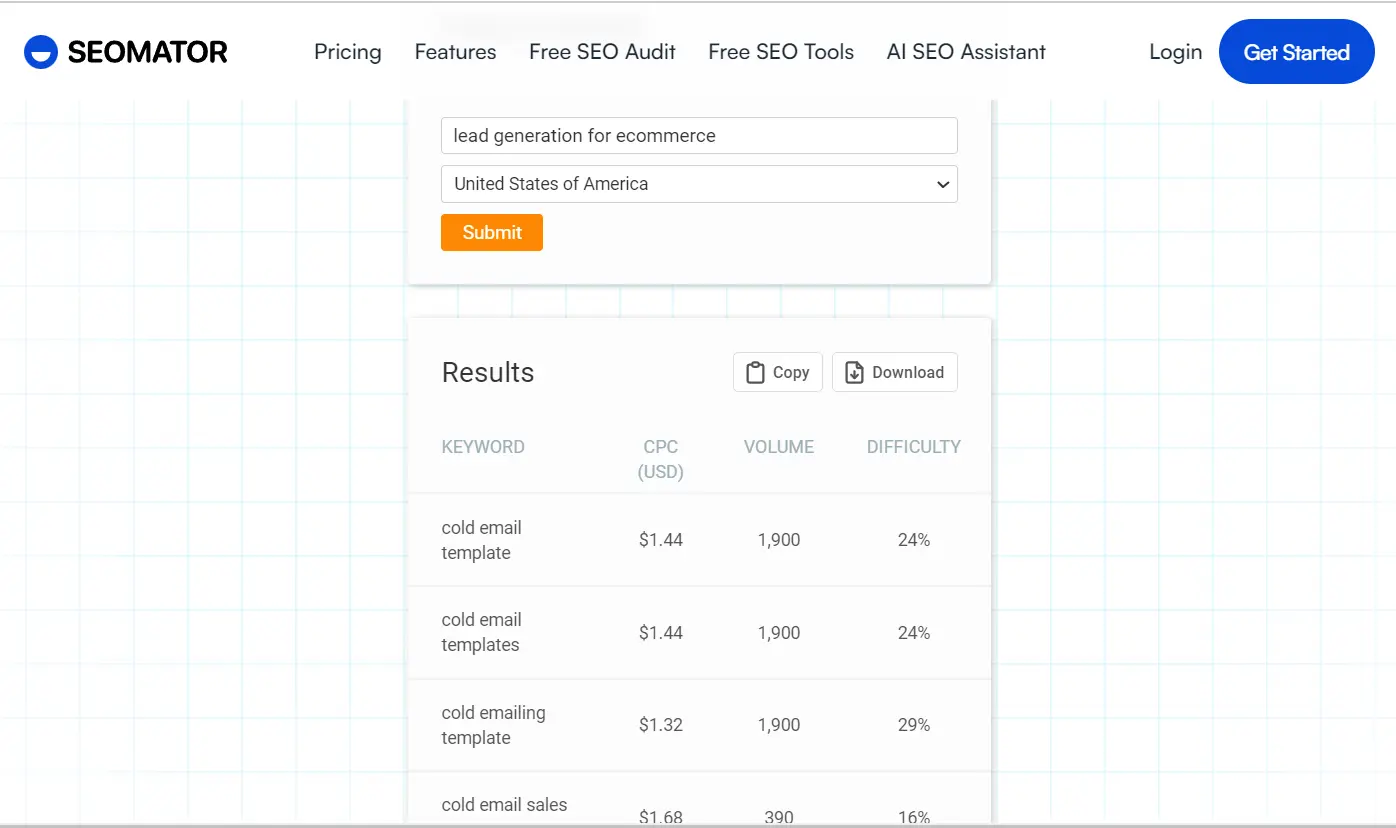 Its easy-to-use user interface and an unlimited number of queries make it a favorite choice to use.
Also, it has many free tools related to SEO, such as site audit, SERP checker, speed tester, crawl tester, DA checker, keyword density checker, and more.
Conclusion
To sum it up, you don't need to spend money on fancy tools for SEO. The ones we talked about here are either totally free or have some free features.
Whether you're a pro or just getting started, these tools are easy to use and won't cost you much. They help you make your content better without making your wallet sad.