Table of Content
What are Drip Campaigns and Nurture Campaigns?
What are the Key Differences Between the Two?
Benefits of Using Drip and Lead Nurture Campaigns
Drip Campaign
Nurture Campaign
Drip Campaign vs. Lead Nurture Campaign: Which one to choose?
Conclusion
FAQs
What are Drip Campaigns and Nurture Campaigns?
Drip campaigns nurture leads, guide them through the sales funnel, and help convert them into customers. Additionally, they assist with onboarding and educating customers about products.
Lead nurturing campaigns aim to build long-term relationships with potential customers by educating, engaging and building trust.
What are the Key Differences Between the Two?
Drip campaigns are suitable for automating email marketing and reaching a large audience.
Lead nurture campaigns are suitable for personalizing email marketing and moving leads further down the sales funnel.
Benefits of Using Drip and Lead Nurture Campaigns
Higher Engagement
Improved lead conversion
Increased

customer retention
Save time and resources.
Drip Campaign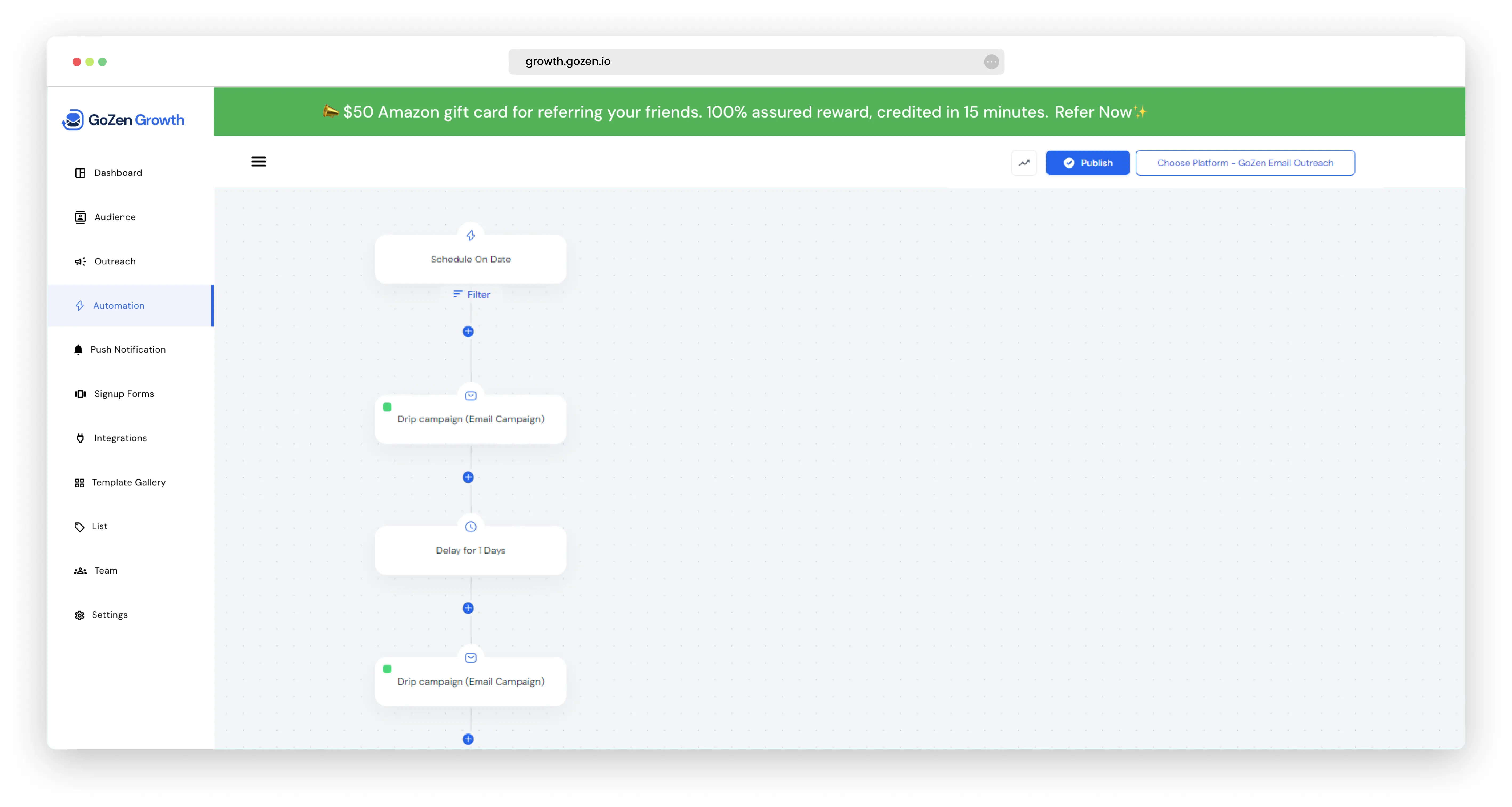 Process of the drip campaign
Identify your audience
Create your content
Plan your campaign
Set up your drip campaign
Monitor and adjust
Different types of Drip Campaigns
Onboarding Drip Campaigns: These campaigns intend to aid new customers or users in starting with a product or service. They offer information, tips and support to ensure a seamless onboarding experience.
Abandoned Cart Drip Campaigns: Often used in e-commerce, these campaigns target users who have added items to their shopping carts but haven't completed the purchase. They send reminders and incentives to encourage conversion.
Re-Targeting Drip Campaigns: Target inactive or disengaged subscribers or customers to rekindle their interests and bring them back into the fold.
Post-Purchase Drip Campaigns: These campaigns target purchased customers to provide post-purchase support, gather feedback, and encourage reviews.
Content drip campaigns: Deliver content pieces, such as blog posts, videos, or ebooks, to engage and educate recipients.
Best Practices of Drip Campaign
Segmentation: Segment your audience based on their characteristics, behaviours, and preferences. Sending personalized messages with quality content to specific segments increases relevance.
Clear Goals: Define clear and specific goals for your drip campaign, whether it's lead conversion, onboarding, or re-engagement.
Consistent Schedule: Establish a uniform message delivery schedule to ensure appropriate intervals.
A/B Testing: Continuously test different subject lines, content, and Call to actions to optimize for higher engagement and conversion rates.
Mobile Optimization: Ensure your emails and messages are mobile-friendly since many recipients will view them on mobile devices.
Compliance: Stay compliant with email marketing regulations and provide an easy way for recipients to unsubscribe.
Nurture Campaign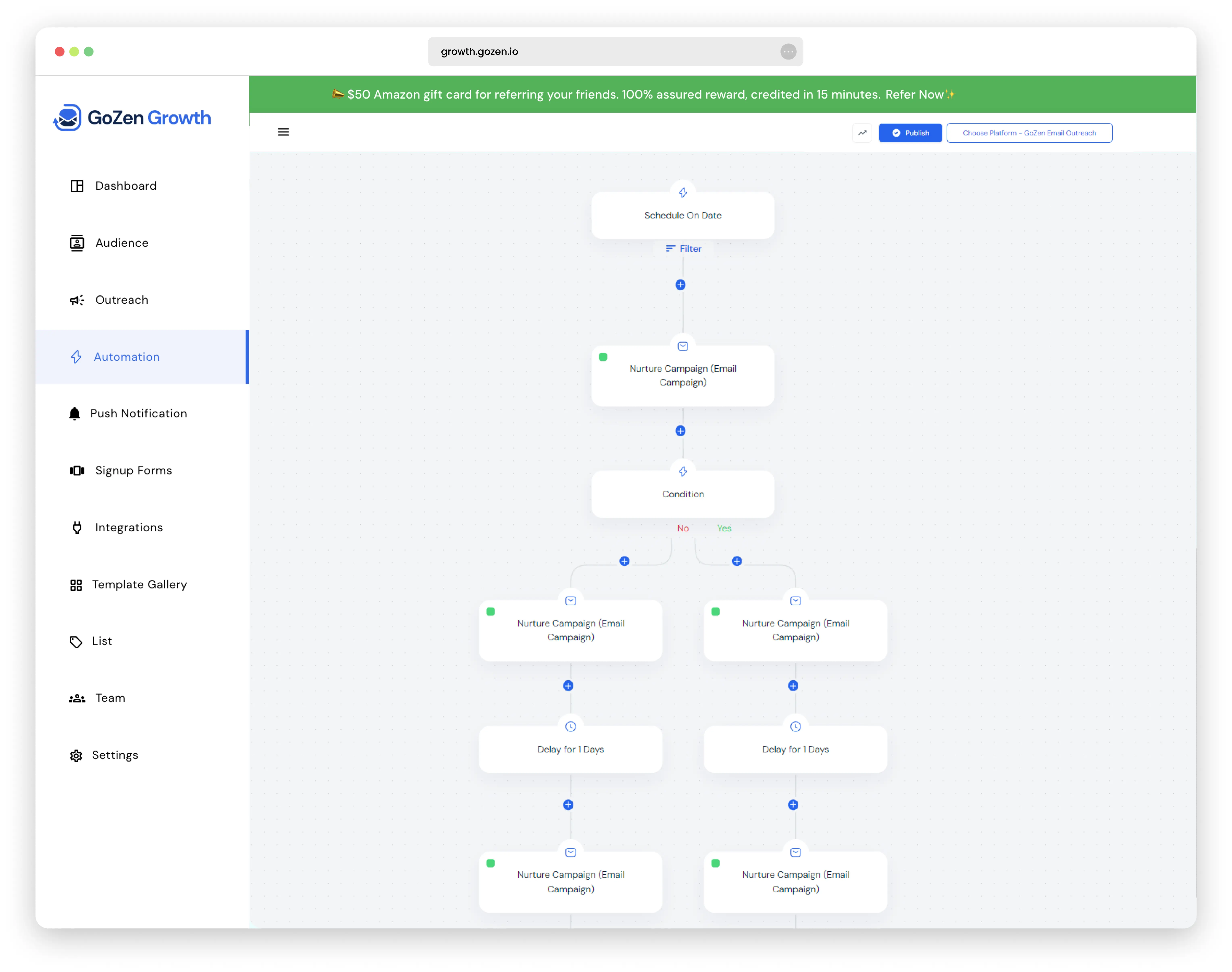 Process of Lead Nurture Campaign
Acquisition of leads
Lead qualification
Nurturing through the provision of additional information as needed
Closing of the sale
Repetition of the process to retain the clients.
Different types of nurture campaigns
Indeed, here are some of the most essential types of nurture campaigns:
Onboarding Campaigns: Help new customers or users get started with a product or service, offering guidance and support to ensure a positive initial experience.
Re-engagement Campaigns: Revive disengaged subscribers and customers by focusing on them.
Educational Campaigns: Position your brand by providing educational content to build trust and authority among the people in the industry.
Upsell/Cross-sell Campaigns: These campaigns promote additional products or services to existing customers, encouraging them to make additional purchases or upgrades.
Best practices for creating nurture campaigns
Content Variety: Provide a variety of content types, such as articles, videos, webinars, and infographics, to keep recipients engaged.
Consistency: Maintain a consistent communication schedule, but avoid overwhelming recipients with frequent messages.
Personalization: Personalize content based on recipient behaviour, interests, and previous interactions.
Clear CTAs: Include clear and relevant call to action that guide recipients toward desired actions.
Feedback Channels: Provide channels for feedback, questions and inquiries to show that you value your audience's input.
Lead Scoring: Implement lead scoring to identify the most promising leads and focus your efforts accordingly.
Automation: Use

marketing automation

tools to streamline the nurture campaign process and send messages based on recipient actions or milestones.
Drip Campaign Vs Lead Nurture Campaign: Which one to choose?
Before deciding whether to use a drip or a lead nurturing campaign for your business, let me walk you through an example so you can be clear on your idea.
Imagine you have strategized these mail ideas for your business. Let's see how each campaign works.
Drip campaign:
Email 1: Welcome email that introduces the company and its product.
Email 2: A case study of a customer who has successfully used the product to achieve their business goals.
Email 3: Free webinar on how to use the product to improve a specific business process.
Email 4: Demo offer.
Email 5: Discount on the product.
Drip campaigns are sent out on a predetermined schedule, regardless of what the lead does.
Lead nurture campaign:
Email 1: Sends the lead the whitepaper they downloaded.
Email 2: Sends the lead a blog post on implementing the tips from the whitepaper.
Email 3: Sends the lead a case study of a customer who has used the company's product to reduce customer churn.
Email 4: Offers the lead a free consultation to discuss how the company's product can help them minimize customer churn.
Lead nurture campaigns are triggered when a lead takes a specific action, such as visiting a webpage or downloading content.
Ultimately, the best way to decide which type of campaign is right for your business is to experiment and see what works best for your audience.
Conclusion
Choose a drip campaign when your sales cycle is short, and you have a well-defined conversion path. Opt for a lead nurturing campaign when you need to build long-term relationships, provide educational content, and have a more complex sales cycle.
Consider your goals, audience, and content strategy when deciding which approach to implement, and keep in mind that a balanced marketing strategy may incorporate both to address different stages of the customer journey effectively.
FAQs
1. Can I Combine Drip and Nurture Campaign Elements in a Single Strategy?
Yes, many marketing strategies incorporate elements of both drip and nurture campaigns to effectively move leads through the sales funnel while also building lasting customer relationships.
2. What Metrics Are Important for Measuring the Success of Drip Campaigns?
Key metrics for drip campaigns include conversion rates, open and click-through rates, and the number of actions taken in response to the campaign.
3. What Metrics Are Important for Measuring the Success of Nurture Campaigns?
Engagement metrics, including open and click-through rates, subscriber retention, and long-term customer value, are vital for nurture campaigns.